Broadcast News
18/04/2016
Costumier Business For Sale In South Wales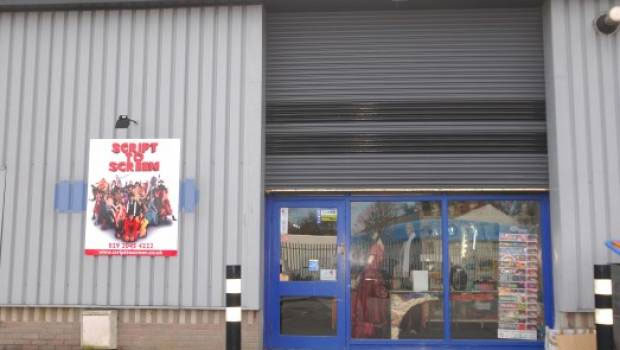 Costumes, perhaps more than any other aspect of a production (save acting skills), bring a show to life.
Today, with movies, TV shows and theatre such a big part of our lives and the economy, experienced and skilled costumiers are in high demand. However, they are also hard to find for the required knowledge, creativity, reliability and keen ability to turn imagination into reality.
This business has earned the trust of the biggest industry names and that of many smaller production companies yielding over £140,000 in turnover.
While this award-winning costumier supplies the costumes and accessories for some of the foremost television, film and stage production companies, there is no need to dress up the underlying operation that makes it all possible.
To start, the owners have diversified and secured their income by establishing two complementary business units. The first involves bespoke costume consulting and design for a wide array of customers, beginning with school and amateur productions to large theatrical companies and leading TV/film studios. The other half of the business is its South Wales retail location, offering costumes for sale or hire. This outlet is located in an industrial unit where an overwhelming selection of costumes are displayed floor to ceiling on racks and hangers, on one and a half floors. For the convenience of customers the unit also includes a comfortable seating area and changing rooms, as well as a spacious office for the proprietors.
Intelligent Business Transfer are pleased to have received the instruction for the respected costumier and costume retailer/for hire business well known in Wales and throughout the UK.
With regular, high profile clients such as the BBC and S4C, and a large, loyal, national base of customers, the business has developed a successful reputation for top quality costumes and costuming advice. Today, with a 20+ year track-record, the business relies mostly on word of mouth recommendations for new business, bolstered by a fair number of random website visitors and an active social media presence.
Looking ahead, a buyer has many directions to choose from should they wish to expand including: adding an e-commerce aspect to its website, allowing customers to buy online; promoting outright sales of costumes (as opposed to hire); increasing direct sales efforts to studios and theatre companies; and reinstating advertising campaigns in both trade publications and the general media.
Intelligent Business Transfer are looking for a costume design graduate, a motivated amateur or a competing business to purchase the business and maintain service once the vendors step down. The current owners are seeking retirement but have agreed to stay on for a three-month transition period.
Situated in an industrial structure in South Wales, the business is located on the outskirts of the capital with excellent transport links to the rest of the UK. With its dual operations, retailing and costume consulting, the business benefits from the region's substantial and growing population of 350,000, and from the ongoing increases in the national performing arts and media markets. With strong foundations set, it offers an excellent runway for additional growth and is available to purchase on a leasehold agreement.
If of interest, arranging a viewing is recommended. All arrangements are strictly by appointment through Intelligent Business Transfer. No approach should be made to the owner of the business.
If you would like to find out more detailed information about this business, such as copies of the accounts or have a specific question, please contact Intelligent Business Transfer's head office on 0800 612 7718.
Intelligent Business Transfer work in partnership with business brokers and banks such as NatWest.
Other key points:
•
Tenure
The business is being sold on a leasehold assignment.
•
EPC Rating
The business has an EPC rating of: C 51-75
•
Key financials
AT: £142,000
NP: £30,000
Est: 1993
Rent: £15,500
Rates: SBR
Asking Price: £150,000
www.intelligentbusinesstransfer.com
(JP)
Top Related Stories
Click here for the latest broadcast news stories.