Broadcast News
30/03/2016
Red Box Media Reviews Sennheiser Mic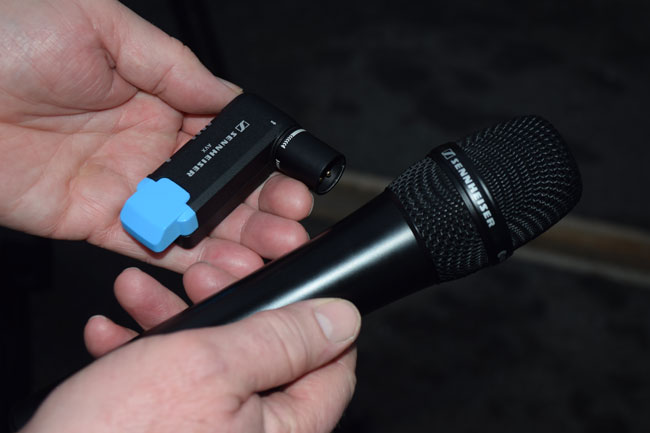 Liam Creagh, Director at Red Box Media Productions, reviews the Sennheiser AVX radio microphone.
As a former TV news reporter, the hand held radio mic was pretty much part of the toolbox. Not to be tethered to a camera or worse still – a cameraman, was a great benefit.
This new Sennheiser mic is so simple to use. You plug the small receiver into one of the xlr sound channels on the back of the camera and off you go to do your interviews with mic in hand. If you are using smaller cameras or DSLR and don't have XLR sockets on your camera there is a handy XLR to mini jack lead.
I now own a small production company, Red Box Media, which produces features and documentaries for broadcast as well as corporates, TV commercials and children's videos. We also media train organisations to help them get their message across when accosted by the likes of my former self. I have test driven the Sennheiser AVX radio mic in all of these situations and have been pleased.
The sound quality is superb. Not only have I conducted interviews and pieces to camera with the mic, but I also used it to record the voiceover for a 40-minute children's video, Paddy Pickup on the Trains and Buses. I recorded my voice straight onto our Panasonic P2 camera in a soundproof studio, transferred the cards into Avid and was delighted with the quality.
I noticed it fell down slightly when I gave the mic to a contributor who was not used to working with mics. The lady in question left us with significant sound problems because she moved her hand quite a lot along the stem of the mic. The sound of her hand movements bled through into her recording so perhaps there is a bit of tinkering for Sennheiser on this issue.
The only other negative I noticed about the mic we trialled was the charging arrangement. There is one charger shared between the mic and the receiver. I suppose another charger would fix that problem. The charger itself is very user friendly – it plugs straight into the mains and is about the size of a standard UK plug. It has a USB socket to which you connect the supplied lead which has USB plug on one end and a mini charge port on the other which you plug into your mic or receiver. A big positive is that you can take a charge for your mic or receiver from USB ports in your computer or laptop – very useful if out in the field.
I have had the AVX kit for a couple of months now and have become very used to having it. It makes life nice and simple. It is light, takes up very little room and is very easy to set up – an absolute joy for people like me who believe the good soundbite makes the good video great.
redboxmedia.co.uk
Top Related Stories
Click here for the latest broadcast news stories.