Broadcast News
18/12/2015
Lawo's Sapphire Compact Mixing Desk Now Shipping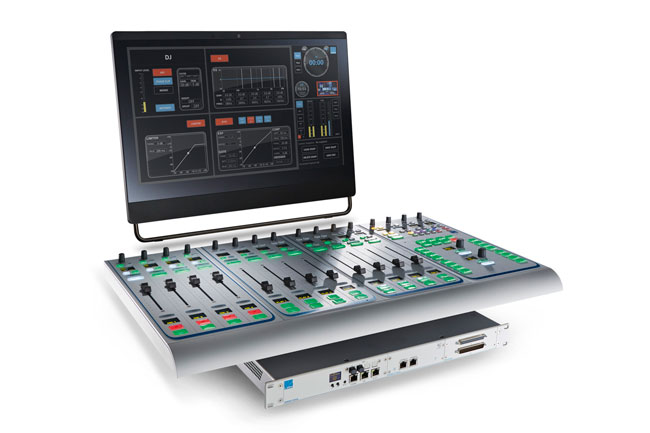 Lawo's sapphire compact mixing desk is now shipping to clients worldwide, the company has said. The mixing desk was first introduced at IBC 2015.
Providing a new, small mixing surface with either eight or 12 motorized faders, sapphire compact is also equipped with VisTool 5.0 software for extended visualisation and control, with new features designed to help simplify the workflow of complex radio programming.
Autogain, for example, is suited for multiple-mic talk shows and news programs. With the push of a single button, it adaptively optimises the dynamic range of all active microphone preamps, turning microphone chaos into a smooth, even mix of voices.
Automix, meanwhile, is an exclusive, intelligent DSP algorithm which gives presenters the power to create radio shows virtually hands-free. It works by intelligently riding the gain of any combination of mono and stereo input signals to produce error-free mixes, freeing talent to prepare for what's next.
Another feature present in sapphire compact is a "layering" capability, which enables the console to manage a live broadcast, while performing alternate tasks such as voice tracking, phone call editing, and even light production at the same time.
Sapphire compact is available in both desktop and flush-mount styles. A compact 1RU mixing engine includes a full suite of sophisticated signal processing functions, along with analog and digital I/O, plus AoIP and baseband connections. It comes with VisTool screen building application software, designed to create custom status displays, tablet and touchscreen based button panels and even mixing console controllers. VisTool also serves to capture and manage snapshots and offers sophisticated rights management functionality.
The new 5.0 version adds GUI elements including the ability to place web page objects on custom panels. It also provides integration to more devices via the Ember+ control protocol while a new logic engine enables rules-based decisions and actions.
www.lawo.com
(JP/MH)
Top Related Stories
Click here for the latest broadcast news stories.