Broadcast News
11/12/2015
RED Digital Camera Unveil New Addition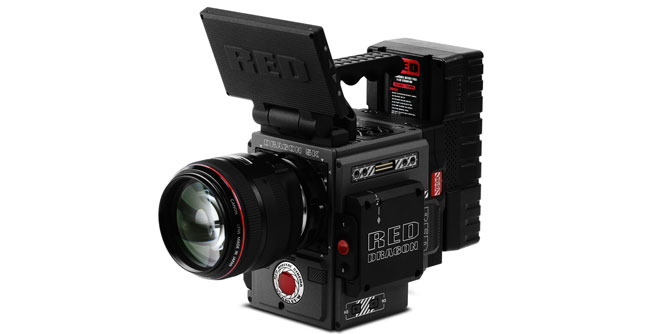 RED Digital Cinema has announced the latest addition to its line of professional cameras, the SCARLET-W.
It joins the RED RAVENTM and WEAPON in the latest generation of RED cameras, and is a feature-rich, intuitive option for professional shooters. The SCARLET-W offers a RED DRAGON sensor, interchangeable lens mounts, simultaneous recording in REDCODE RAW and Apple ProRes formats, an intelligent OLPF system, and in-camera 3D-LUT outputs.
Priced at $9,950 for the camera BRAIN and $14,500 for the complete Base I/O V-Lock Package, SCARLET-W delivers flexibility, accessibility and performance. The camera captures 5K at 60 frames per second (fps), 4K at 150 fps, or 2K at 300 fps with REDCODE RAW; and its wide dynamic range produces cinema-quality images rich with natural color.
SCARLET-W also offers an upgrade path to WEAPON and uses the DSMC2TM line of accessories – compatible with both RED RAVEN and WEAPON cameras – giving shooters the option to move between camera systems without having to purchase new gear.
"When we began shipping the 4K RED ONE in 2007, it did nothing short of disrupting the camera industry with an unheard of blend of performance and price," said Jarred Land, President of Red Digital Cinema. "And we are doing it again – meet the 5K SCARLET-W. It is a perfect storm of image quality, intuitive design, and accessibility."
SCARLET-W follows the recent 4.5K RED RAVEN announcement, and is another example of RED's ongoing commitment that cinema-quality creative tools should not be in the hands of a few, but available to a wide spectrum of content creators.
RED RAVEN is priced at $5,950 for the BRAIN only, with full packages starting at $9,750. Customers that have placed RED RAVEN pre-orders can change to a SCARLET-W pre-order.
SCARLET-W is due to begin shipping in February 2016, and deposits are now being accepted. Customers will be given a choice of purchasing the BRAIN only to build a kit that best fits their needs or choosing the SCARLET-W Base I/O V-Lock Package, which offers everything content creators need to start taking their productions to the next level.
• SCARLET-W BRAIN ONLY - $9,950 – estimated to ship February 2016
• SCARLET-W BASE I/O V-LOCK PACKAGE - $14,500 – estimated to ship March 2016. It includes a SCARLET-W BRAIN, AI Canon Mount, Base I/O V-Lock Battery Mount, RED MINI-MAG 120GB, DSMC2 RED Touch 4.7" LCD, DSMC AC Power Adaptor, and DSMC2 Universal Handle.
www.red.com
(JP/LM)
Top Related Stories
Click here for the latest broadcast news stories.