Broadcast News
22/10/2015
U.S. Launch For Lawo's KICK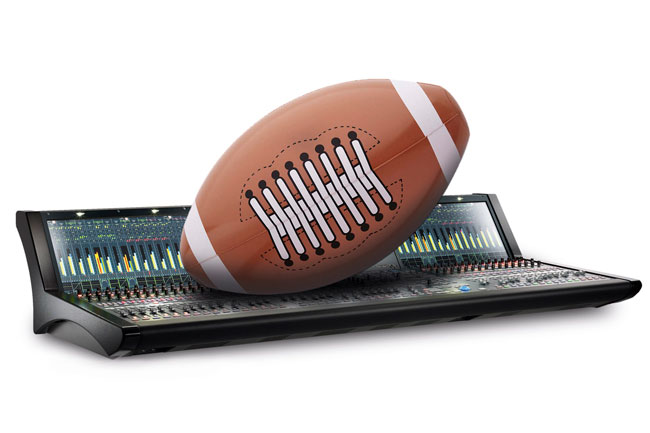 Lawo is set to have its U.S. launch of its new KICK close-ball automation at AES 2015, New York, 29 Oct – 1 Nov.
The technology takes the viewing experience to a new level as it enhances the depth and intensity of the audio, while simultaneously reducing production effort. Using the latest image analysis and tracking systems, KICK's patent-pending technology ensures a fully-automated, high quality close-ball audio mix for sports such as American football, soccer and rugby.
The system delivers transparent sound pickup with its 'kick-to-noise' ratio reducing ambient crowd noise. It also ensures a consistent audio level without noticeable fades for seamless inclusion in a broadcast mix that is 100% repeatable from match to match and highly accurate, even after 90 minutes of play.
KICK is available as a software-only solution for productions using Lawo mc² mixing consoles, as well as a hardware bundled solution based on Lawo's new mc² Micro Core that interfaces with consoles from other manufacturers via MADI and RAVENNA/AES67.
Also at AES 2015, the Nova37 Hybrid RAVENNA/MADI Plug&Play Audio Router will have its U.S. debut, offering a package for various applications including live performance, installed sound, and houses of worship. The router's plug-and-play architecture includes presets optimised for creating small-sized audio networks, while additional configurations can be customised to address specific requirements. Eight RAVENNA/AES67 ports and eight MADI ports provide extensive connectivity with Lawo's one-touch rights management system integrated onto the consoles' touchscreens.
Lawo's A__line family of Audio-to-IP interfaces for broadcast, live and install applications has also expande, with the launch of the A__digital8 and A__madi4, in addition to the established A__mic8. The compact rackmount devices are compatible with the AES67 audio-over-IP interoperability standard and make it easy to configure and manage audio and video streams in IP networks without requiring a deep understanding of IT systems.
The A__mic8 features eight mic/line inputs and four line outputs; the A__digital 8 has eight AES3 inputs and four AES3 outputs, while the A__madi4 offers four MADI interfaces. All units offer two RAVENNA/AES67 Ethernet ports, eight GPIOs and require only a single cable for A__mic8 and A__digital8 PoE (Powered-over-Ethernet).
Also on display is the mc²56XT mixing console, which provides twice the number of faders in the same footprint as the mc²56, making it suitable for trucks or studios where space is limited. The mc²56XT is natively equipped with RAVENNA/AES67 technology, and comes with the full Lawo broadcast production package including Audio-follow-Video, Automix, Up- and Downmix, and Loudness Metering.
Expanding the range of options for its full mc2 series audio consoles, Lawo recently announced a collaboration with WAVES that will have its US market rollout at AES. The result gives operators access to WAVES' SoundGrid system, including a comprehensive plugin library allowing control of reverbs, multi-tap delays, graphic equalizers and multiband compressors directly from the console's touchscreen, keyboard and rotary controls, with save and recall for entire sessions.
With regards to video, Lawo now offers a range of IP-based products designed specifically for live remote production. The new V__remote4 features seamless frame-accurate switching of SMPTE 2022-6 video with hitless merge and enhanced protection switching for higher operational redundancy. The complete V__line family of compact 19-inch/1RU Video-to-IP interfaces will also be on display.
Lawo's commitment to providing smart IP infrastructure offers close integration of audio with both video and control, to provide a complete solution for any workflow. The result is a new Plug & Play Remote Production Kit that brings together the new V_remote4 with fully-integrated video, audio and intercom transport and control capabilities (via qualified IP WAN connections) that support third-party video and audio equipment.
Lastly, Lawo, in conjunction with the DiMenna Center for Orchestral Recording, will offer an opportunity to a limited number of attendees at AES to participate in a Master Class on mixing for orchestral and motion picture sound recording and live broadcast. The event will include a hosted reception and facilities tour, followed by a presentation featuring Lawrence Manchester, audio mixer for the Tonight Show and the DiMenna Center for Orchestral Recording.
It is limited availability only, and will take place Saturday evening, October 31, from 5pm to 8pm. It is offered on a first-come-first-served basis.
To secure a place, email
sales@lawo.com
to register.
www.lawo.com
(JP)
Top Related Stories
Click here for the latest broadcast news stories.