Broadcast News
02/10/2015
Accelerating Interest In Ikegami UHD At IBC2015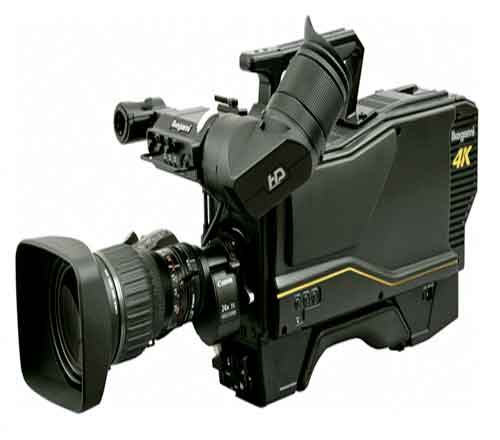 Ikegami has reported accelerating interest in ultra-high definition (UHD) among delegates attending the 2015 International Broadcasting Convention. Held at the RAI Centre in Amsterdam, IBC attracted 55,128 visitors, the highest attendance in its 38 year history.
"The transition from HD to UHD will give content producers the ability to offer domestic television viewers a fourfold improvement in picture resolution," Ikegami Europe President Masanori Kondo said.
"High dynamic range imaging will also add tremendously to the home viewing experience, matching the latest developments in picture display technology. UHD will also enable producers to maximise the commercial life of their programmes as the broadcast marketplace progresses to higher technical standards.
"To encourage feedback from potential customers, Ikegami showcased at IBC this year a 4K-native new Unicam 3-CMOS 2/3-inch camera which matches the ergonomic and operational features of conventional Ikegami Unicam HD cameras. The design objective is to deliver the deep focus required for broadcast operation combined with ultra high quality colour reproduction. Compactness and light weight are obviously important issues.
"High dynamic range was much in discussion and has long been our speciality. Ikegami can stream component RGB 444 direct from camera head to control unit. This enables us to produce uncompressed RAW data from a 4K native sensor matching the UHD colour space defined in ITU Recommendation 2020. The 4K-native new Unicam camera will be capable of easy integration into 4K studio and 4K field/OB truck systems. A 2/3-inch B4-mount will allow direct docking with conventional lenses plus a focus-assist function.
"We also displayed the SHK-810 portable 8K camera, developed in collaboration with Japan Broadcasting Corporation (NHK). The SHK-810 incorporates a 33 million-pixel Super 35 CMOS single sensor delivering 4,000 television lines of horizontal and vertical resolution. The sensor allows the tight depth of focus which is often requested by producers of drama programmes. The SHK-810 has 8K, 4K and 2K outputs, all in native quality. It can be used in a fully 8K production environment or alongside 4K and/or 2K cameras. Regular PL-mount lenses can be used.
"Our HD cameras continue to be in high demand. We demonstrated a high-definition robotic system based on the Ikegami HDL-45E head mounted on a pan/tilt unit. This is intended for applications such as newsrooms, remotely operated interview studios and parliamentary television. Camera and pan/tilt unit are both controlled via an Ikegami iHTR-100 fibre-optic transmission link which operates at distances of up to 40 kilometres. The iHTR-100 can carry up to 20 gigabits per second of multiple format video. Its extremely low latency is ideal for coverage of live events."
Ikegami's BS-98/CCU-980 hybrid 2K/4K rack-mountable optical-fibre transmission links made their first appearance. When used in combination with current Ikegami Unicam HD cameras, the BS-98/CCU-980 can deliver HD and 4K processed UHD signals simultaneously. This allows users to employ their existing HD cameras and accessories, including lenses, for 4K productions as economical bridge equipment until they are confident that 4K viewing will become popular in the broadcast marketplace.
The Ikegami HDK-97ARRI broadcast-style production camera with digital cinema characteristics and HDK-97A 16-bit full digital 3G HDTV portable camera were exhibited with the BS-98/CCU-980 hybrid 2K/4K optical fibre links in a demonstration of 4K live pictures. The HDK-97ARRI results from the combination of Ikegami and ARRI technology.
ikegami.eu
Top Related Stories
Click here for the latest broadcast news stories.