Broadcast News
15/06/2015
RAVENNA In A Nutshell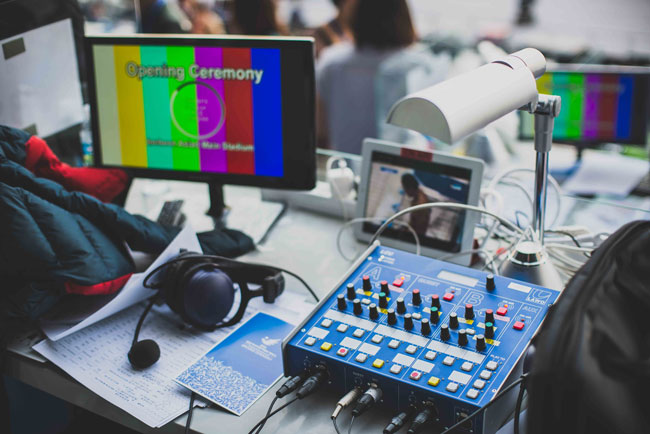 As the notion of audio distribution over IP becomes more widespread, so indeed do the choices that are open to us. So why audio over IP anyway? It boils down to two main factors: firstly, the flexibility gained in signal routing; and secondly the low cost of implementation.
The advantages of a cheap, scalable infrastructure offered by an audio over IP solution using standard IT equipment versus the cumbersome, expensive and much less flexible implementation of a traditional audio distribution solution are becoming far too important to ignore.
So what is RAVENNA and where does it fit into this changing landscape? In a nutshell, RAVENNA is an open, license-free solution for transmitting audio over IP in real time. It uses standard network technology to deliver high quality, multi-channel audio and is available to any manufacturer wishing to incorporate RAVENNA into their products. However, not all audio over IP transport solutions or protocols are created equal, so it's worth having a look at what makes RAVENNA stand out from the crowd.
The first thing to note is that RAVENNA was designed specifically to meet the exacting demands of broadcasters - that means extremely high performance with sample rates of up to 384 kHz at latencies of below 1 ms. Phase-accurate synchronisation is also part of the standard tool-set for those requiring superior audio performance, as well as full bit transparency for 100% preservation of the original signal content. In short, RAVENNA offers the best performance characteristics of any audio over IP transport solution on the market today.
Other important RAVENNA features include flexible profiles for multi-format support. Just about any audio format can be supported, with 16- and 24-bit as well as 32-bit bit full bit-transparent AES/EBU data formats in combination with all relevant sampling rates being the standard. Video and control data may also be transported across a RAVENNA network.
The cherry on the cake is that RAVENNA is also fully AES67-compliant. AES67 is the interoperability standard for high performance audio over IP streaming published by the AES in 2013. The standard is designed to allow fully synchronized stream exchange between different transport solutions such as Livewire, Q-LAN, Dante and of course RAVENNA. As RAVENNA is fully AES67-compatible out of the box, this means anyone implementing a RAVENNA solution can easily interoperate with systems from other manufacturers. Currently, RAVENNA is the easiest and most cost-effective route for manufacturers to offer their clients AES67 compatibility, and thus the ability to develop interoperable, standards-agnostic communications and signal transport solutions.
So where are we most likely to be seeing RAVENNA in action? The most obvious answer is broadcast as that's what it was originally developed for – in fact, RAVENNA played a starring role during the FIFA World Cup in Brazil where the local console in each of the Equipment Room Containers (very similar to an OB van) was connected to the core via RAVENNA over Cat5. RAVENNA was also used for the tie-lines between the main and multi-feed cores. It also played a key part for German national broadcasters ARD/ZDF who used the Lawo V_link4 all-in-one video-over-IP solution to relay live coverage from Brazil via remote production. The V_link4 unit was used as an IP network stagebox to collect all the audio signals via MADI and then transfer them over the IP network via RAVENNA from Copacobana to the IBC and back. In addition to managing the main audio signals, the RAVENNA network also handled most of the international audio commentary streams through the Lawo Commentary system.
However, as a completely scalable solution, what can do more can do less. A recent, totally different application saw a RAVENNA solution implemented in a multi-zone restaurant/conference centre in Finland where all of the audio streams are sent via RAVENNA onto the network. Any audio source can be sent to any of the RAVENNA-enabled loudspeakers in any zone. The system offers total flexibility and extremely high quality thanks to the ultra-low latency of RAVENNA technology. The client also noted significant cost- and time-saving over a traditional audio solution, particularly where cabling was concerned.
In short, RAVENNA is suitable for any application requiring high quality networked audio, e.g. in-house signal distribution in broadcast facilities, theatres, concert halls and other fixed installations, flexible setups at venues and live events, OB vans, inter-facility links across WAN connections, production and recording applications and much more. Merging Technologies in Switzerland has adopted RAVENNA as the native connection to ALL of the Merging audio software and hardware range, so any Merging application is, by default, a RAVENNA application.
In an increasingly networked world, RAVENNA/AES67 have much to offer us.
This article is also available to read at BFV
online
.
(JP)
Top Related Stories
Click here for the latest broadcast news stories.