Broadcast News
04/06/2015
Lights, Cameras, Action At Cine Gear Expo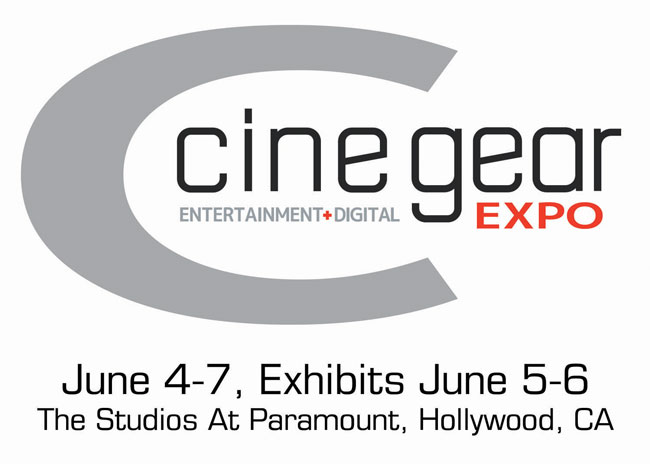 Lights, cameras and action is the name of the game at this year's Cine Gear Expo, which opens on Friday 5 June at Paramount Studios in Hollywood, California.
Each year the world's motion picture, video and new media community gather to see and compare notes on the latest trends and technology on the famous Paramount backlot. It's the chance for hundreds of equipment vendors to show new innovations to the filmmaking community.
When it comes to cameras, attendees can get their hands on the Blackmagic URSA Mini compact, lightweight Super 35 digital film camera that is balanced for handheld use. Canon will highlight its new EOS C300 Mark II Digital Cinema Camera featuring 15 stops of dynamic range, internal 4K recording, and dual DIGIC DV5 processors. LA-headquarted Digital Bolex meanwhile will showcase its new native MFT-mount camera as well as the D16 Reflecting Monitor Hood and the D16 Skin. JVC will show its 4KCAM line of professional camcorders including the GY-LS300, which features JVC's 4K Super 35 CMOS sensor.
In addition, Marshall will demo a 2-inch-long, all-weather full HD Lipstick Camera built around a high-performing 2-megapixel single chip 1/3-inch sensor and 3.6mm lens that is ideal for vehicle mounts, hidden-cameras, sports-casts, weather-casts and more.
The exhibit will also feature companies dedicated to tools that work around the camera, like lenses, filters, monitors, tripods and power supplies. For power, Blueshape introduces new all-metal, rugged V-mount plates with four taps and a new line of waterproof batteries, the MVSPLASH. Lex Products introduces the CineBox™ to its PowerHOUSE™ series of portable power distribution boxes which are stackable, compact and non-conductive, with heavy-duty rubber enclosures to withstand the conditions of location and studio shoots. Switronix will demo its VoltBridge battery monitoring platform that utilises a Bluetooth Low Energy (BLE) UART to transmit smart battery data to iOS/Android devices, allowing the user to monitor and set functions on up to 25 devices.
Camera viewing innovations start with the world premier of SmallHD's newest on-board 5" HD monitor, the 501. Attendees can also try out the much-anticipated Sidefinder viewfinder/monitor combo in its new 501 configuration. Atomos will demo the Shogun, a 4K/HD all-in-one camera attachment for recording, monitoring, playback and editing. Sound Devices will preview its Video Devices PIX-E Series camera-mounted recording field monitors, while Boland offers two new camera-top DayBright models, plus 20", 24" and 27" production monitors for mobile DIT carts and location production. Zacuto will be offering bundle savings for the purchase of a Gratical HD combined with a Recoil Rig.
The lights are on at Cine Gear Expo with an array of new lighting advancements from more than a dozen companies. LED lighting will abound. AAdynTech's Hurricane Jr. compact Daylight LED is designed for newsgathering and field production with an output of 650 foot-candles at 10 feet. Litepanels' line-up includes the new ASTRA 1x1 EP, ASTRA 1x1 E series and a new remote control via Bluetooth. F&V is introducing an innovative Z720 Ultracolor LED Ring Light. Light & Motion will premiere its new Stella LED lights with built-in Li-ion rechargeable batteries that allow cord-free operation up to 12 hours. LiteMat joins LiteGears' established line of colour-correct LED LiteRibbon and Flicker-Free LiteDimmers. Sumolight will show a new Bi-Color LED Sumospace fixture that matches the output of a tungsten 6K spacelight, plus lights will be shown by Manfrotto, Hive, ETC, Reflex Motion Control, Gantom Lighting and Controls, and more.
New LED Remote Phosphor technology comes into its own. BBS Lighting follows the success of its Area 48 with the introduction of the Pipeline LED System that has a linear form factor with individual Pipes to use alone, or in an array of modular fixtures to suit specific size and colour temperature requirements. Cineo Lighting is exhibiting the Cineo Matchbox™, portable Remote Phosphor Lighting that outputs up to 1000 lumens of high-quality light at interchangeable colour temperatures.
Other lighting innovations will be on hand from Chimera, Kino-Flo, K5600, Broncolor, and ZaboLight. Matthews will show the new VATOR III series of lighting stands to suit fixtures of all sizes. There's also dimmers including Magic Gadgets' Studio PRO and RatPac's LumenRadio wireless DMX, allowing control from up to a quarter mile.
When it comes to action, Cine Gear attendees will find it everywhere, including the Aerigon by Intuitive Aerial, a cinema drone designed with 12 powerful counter-rotating rotors and pre-preg carbon-fiber exoskeleton to carry the weight of Hollywood's most sophisticated camera configurations. Those interested in aerials will also be able to chat with Pictorvision, about their full-sized rigs and drones.
There's more ways to get moved at Cine Gear. Visitors can check out the Camera Goat off-road dolly that has all-terrain capabilities and unlimited flexibility that gets into the unlikeliest of places. Cinetech Italiana has chosen Cine Gear for the world premiere of their new lightweight dolly, Capinera. Several Sliders will be on hand, including those by Reflex Motion Control and That Cat. Mad About Technology (MAT) is displaying their MAT-TOWERCAM TWIN PEEK, portable, remote-controlled, telescoping column that positions a camera up to 24' vertically. Technocrane offers three new camera support product lines. Filmotechnic USA and Camera Car Systems will give visitors the lowdown on the new Russian Arm 6 addition to its crane, car and flight head systems.
Cine Gear Expo exhibits open at The Studios at Paramount, Hollywood, CA on Friday 5 June, 12:00 noon to 8:00pm and Saturday 6 June, from 10:00am to 5:00pm.
www.cinegearexpo.com
(JP)
Top Related Stories
Click here for the latest broadcast news stories.