Broadcast News
06/02/2015
Ikegami Broadcasts PUR & Friends 2014 Concert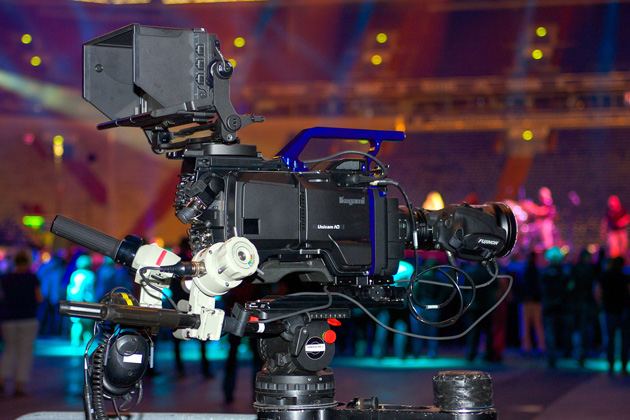 Mobile TV production company TV Skyline selected Ikegami HDK-97ARRI cameras to broadcast the recent PUR & Friends 2014 annual concert from the Veltins Arena in Gelsenkirchen.
Working in partnership with Neoxfilm, TV Skyline captured the performance for transmission by executive producer, Sky Germany.
"Formed in 1975, PUR is a highly innovative and popular rock group with many best-selling albums to its credit," comments TV Skyline founder Wolfgang Reeh. "Our objective was to capture the full excitement of this very high-profile musical event for television viewers. We naturally needed images that would reflect the dynamism of the music.
"The Veltins Arena is the home ground of the Bundesliga club Schalke 04. It has a retractable pitch which was taken up for the duration of the concert. The roof was closed to achieve the best possible acoustics. The stage itself was illuminated with controlled lighting which also extended over the seated and promenading audience.
"We have 22 Ikegami HDK-97A cameras in our fleet. They have given excellent results in every project we have worked on, whether shooting at wide angle, mid-range or high-magnification close-up zoom. To get maximum impact from the PUR & Friends stage shots, we deployed three HDK-97ARRI camera heads: one at the stage rim, one on a dolly and one on a crane.
"The HDK-97ARRI is based on the Ikegami HDK-97A docking camera head and incorporates extra features developed for digital film-making. These include a larger Super 35 sensor which delivers cinematic depth of field, clean highlights, extremely low noise and very natural skin tones. The HDK-97ARRI is fully compatible with our HDK-97A infrastructure, using the same base station, CCU and cable interfaces, so everything connected together very easily.
"Intercutting between the HDK-97A and HDK-97ARRI cameras in our coverage of the PUR & Friends concert allowed us to combine the realism and immediacy of a high quality outside broadcast with the extra impact associated with digital cinematography.
"Particularly impressive was the HDK-97ARRI's dynamic and low-noise rendering of the performers' high-contrast clothing, from dark areas of clothing through to very vibrant highlights. The client producer was also delighted so we have high hopes of winning the contract to televise PUR's 30th anniversary concert this year."
"Selecting Ikegami's HDK-97ARRI Super 35 cameras was a key element of the creative realisation," adds Neoxfilm's Creative Director Marc Schütrumpf. "We relied on early planning and arrangements, choosing the right lenses and optimal camera positions. By maintaining a constant lens aperture, the depth of field could be permanently kept shallow. By using the optimum focal lengths, we were able to generate a cinematic look that brought the PUR concert at its most impressive into every viewer's home."
Jointly developed by Ikegami and ARRI, the HDK-97ARRI is a broadcast-style production camera with digital cinema characteristics enabling a large format sensor to be deployed in multiple camera operation.
www.tv-skyline.de
www.neoxfilm.com
www.ikegami.com
(IT/JP)
Top Related Stories
Click here for the latest broadcast news stories.