Broadcast News
30/01/2015
DPA Microphones Capture Lamia Bèdioui's Unique Sound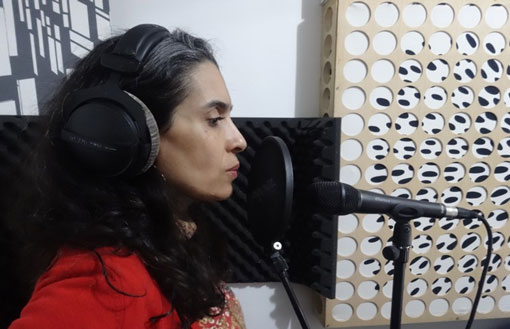 Greek-based singer Lamia Bèdioui is using a range of DPA microphones in the studio and on the live stage to capture her unique sound.
Tunisian singer Lamia Bèdioui is renowned for her unique vocal style that combines extensive range with a huge amount of sensitivity and acoustic detail. Taking her influences for a variety of cultures and musical traditions, Lamia is highly respected on the World Music circuit and much in demand as a collaborator with other musicians.
In recent months, Lamia has been recording her second album, Athamra. For this project she switched entirely to DPA microphones because she and her sound engineer, Andreas Kamenidis, felt DPA was the only brand capable of delivering the clear, clean signal she wanted.
Currently based in Greece where she has lived since 1992, Lamia's repertoire embraces ballads, opera-style singing, improvisation, acoustic music, storytelling, rhythm, dynamic range and rich harmonic variations. Capturing such diversity is an enormous challenge, but Kamenidis thinks DPA is easily up to the task.
"We have 12 DPA microphones in total – a wired d:facto™ Vocal Microphone for Lamia; five d:vote™ 4099 Instrument Microphones that are mainly used on acoustic guitar and traditional instruments such as the kanun, Cretan lyra, oud, mandolin and lute; a d:screet™ 4090 Omnidirectional Microphone for instruments, vocals and as overhead and a d:screet™ 4091 Omnidirectional Microphone for frame drums and various percussions. We have completed our line-up with four d:fine™ Directional Headset Microphones, which are used by Lamia when she is storytelling and by the rest of the band for backing vocals. These mics are also ideal for capturing small wind instruments that are in close proximity to the face, for example the kaval, flute, jaws harp and kazoo."
Kamenidis adds that the DPA microphones have now been used to record vocals, instruments and percussion for Lamia's new album and also to replace previous recordings that were not done with DPA and were therefore not up to the standard Lamia wanted.
"The signal is so clear now," Lamia adds. "The sound is very focused, fresh and alive. I really like the accuracy and precision we are achieving with these microphones – even a rough recording made with DPA is potentially good enough to fit into the mix. Everyone in the band is enjoying the new recording sessions, especially me as now I can truly recognise my voice."
Kamenidis is using DPA for both live and studio work, and says they are ideal for both situations.
"They allow us to capture the pure, analogue sound of the band's instruments," he says. "The d:vote 4099 Instrument and d:fine Headset Microphones are particularly versatile because they offer close miking, stable mounting, easy patching and dispatching and crystal-clear sound capture."
www.dpamicrophones.com
(CD)
Top Related Stories
Click here for the latest broadcast news stories.