Broadcast News
28/01/2015
XL Video Supplies Widescreen Projection On The War Of The Worlds Tour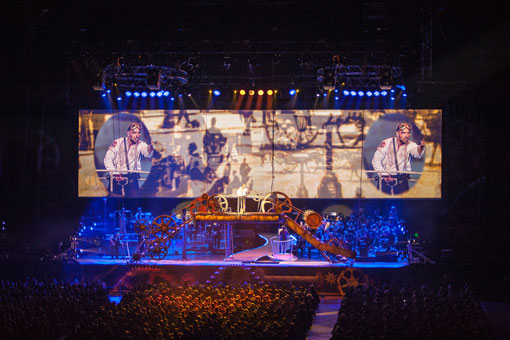 XL Video supplied 100ft widescreen projection and an IMAG camera system for the final 3 week arena tour of Jeff Wayne's Musical Version of The War of the Worlds.
The live stage adaptation starred Jeff Wayne himself conducting the 9 piece Black Smoke Band and 36 piece ULLAdubULLA Strings, Jason Donovan, Westlife's Brian McFadden, X-Factor winner Shayne Ward, X Factor 2013's Joseph Whelan, and Les Miserables' Carrie Hope Fletcher.
Production Direction was provided as usual by Steve Nolan from Chromatic Productions, and the tour was produced by Jeff Wayne and Damian Collier of Top Drawer Tours Ltd.
XL Video's Project Manager was Paul Wood. He and XL have delivered the live video solution for all previous touring versions of Jeff Wayne's epic creation since its inception in 2006. Each time the video elements have become more prominent and dramatic in impact as the Martian invasion goose steps across the 'human' world.
The intelligent approach to the production has allowed the show to be enjoyed live by a whole new generation of fans and become a timeless and classic stage presentation in its own right.
The system comprised the 100 ft wide by 20 ft deep front projection screen which was flown upstage, using eight Barco FLM R22 22K projectors in four double-stacked pairs, edge blended together to form one giant widescreen image. The four stack system is required to get behind the Martian Fighting Machine when it drops in centre stage from the lighting rig.
Two Barco HDQ40 40K projectors positioned understage were used to project onto a holographic film positioned downstage centre to project Liam Neeson's 'virtual' performance as The Journalist.
And two 20K Panasonic Projectors were flown stage right to rear project onto another holographic style framed screen for Liam Neeson head narrations.
Widescreen Video Playback content was run using VirtualVTR, locked to show timecode generated by the show audio multitrack playback.
An additional laptop was used to store and run extra graphics pieces and intro / outro VTs.
The camera package comprised two Sony DXC55 studio cameras fitted with 70x lenses and positioned at FOH, picking up onstage action and beamed onto the screen via PiPs integrated with the widescreen playback footage,
During the walk-in and interval, a remote head on the underbelly of the Martian Fighting Machine picked up assorted audience action which was beamed live onto the screen inside an alien head graphic on the main screen.
All the video sources – cameras and playback - were controlled and output to screen via a Barco Encore system programmed and run by XL's engineer Philip Haynes, who also directed the live cameras.
A further four monitors were provided by XL showing various live feeds as backstage relays.
www.xlvideo.com
(CD)
Top Related Stories
Click here for the latest broadcast news stories.