Broadcast News
19/01/2015
Riedel Readies For 2015...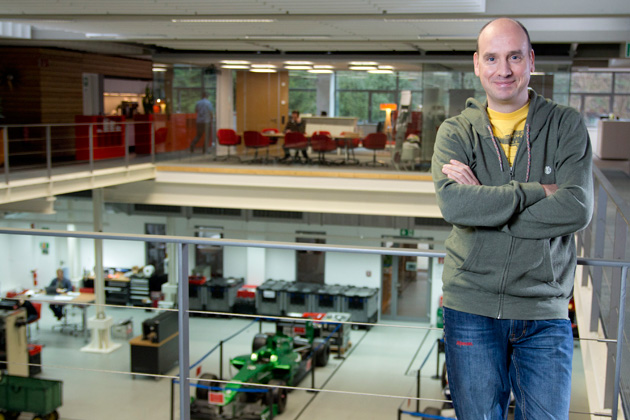 Just before Christmas, Riedel invited editor Iain Todd to the company's headquarters in Wuppertal. He spoke to founder and CEO Thomas Riedel on the year that's passed and the year to come.
BFV: As we begin a new year, I wanted to ask if you could sum up 2014 for Riedel and perhaps mention some of your own personal highlights?
TR: 2014 was a year full of highlights for us. It began with the Sochi Games, which was a huge installation, and not just with regard to the opening and closing ceremonies. Our systems became pretty much the standard for audio and video connectivity within the various venues involved in the event. Sochi really got the year off with a bang, you could say.
Then, of course, the Red Bull Air Race returned after a few years' break, and is now even more spectacular than ever. The same is true for our technology. We provided a nice combination of MediorNet, our intercom products, and other radio solutions in the field.
Our Formula 1 commission for 2014 was, as always, a big operation for us, and you might be forgiven for thinking that it is pretty much 'business as usual' as far as the sport is concerned. In reality, it is continuously growing and expanding and our technology continues to play a huge part in that respect.
Later in the year we were involved in the Commonwealth Games in Glasgow, which saw a huge setup using thousands of radios, MediorNet systems, and intercoms. So it was nice to see both our products and our people delivering the Games for the people of Scotland and, indeed, the Commonwealth as a whole.
To be honest, there is a perception of Riedel as a company that delivers big events like F1 or the Olympics, but did you know that we worked at the G20 Summit in Australia? We also provided solutions for Royal Caribbean International's newly-built Quantum Class cruise ship. This installation featured a substantial intercom setup with five MediorNet systems to provide all the audio and video for passengers and staff onboard.
Looking back at all these projects, I think 2014 was a fantastic year at Riedel. The company has now grown to 400 people and business continues to be great globally; in Australia, North America, all over the world.
Might you say 'no job is too small' as far as the company is concerned?
Being a supplier for big projects is of course fantastic, but sometimes it can happen that the company is pigeon-holed according to a certain perception. People think that if Riedel supplies Formula 1 etc., that we must be a very expensive company to do business with. But really there is another angle to this. Because we deliver technology to power the bigger events, then that technology also exists for smaller projects.
If we receive a commission for a small theatre, for example, then our clients can be assured that the technology we deliver to them is being influenced by the solutions we provide for these other, international events such as the Olympics. The difference is these smaller venues get the same solutions, but on a smaller scale. Price-wise, even on smaller projects, we are more than comparable to our competitors in terms of what we can deliver. But to my mind, our smaller users get so much more; they get all the knowledge and technology that goes into those bigger installations.
Regular visitors to industry trade shows will be more than familiar with Riedel's legendary parties. However, considering how much we can do online nowadays, are shows like IBC and NAB becoming unnecessary?
No, I strongly disagree. On the one hand, online interactivity is very important and our clients will be seeing a lot more from Riedel in this respect in 2015. The shows are about meeting people face to face and hosting live sessions and demos, because at the end of the day business is an activity between people. There is a huge difference between speaking to someone half way around the world on the phone or via a Skype call and meeting them in person to catch up, have a beer, or have some lunch.
Business is a combination of both these aspects and it is important that people get together to speak in person. This is why visitors to these shows will always find a warm welcome at the Riedel stand, as we like to throw the best parties and make our booth a hive of business AND social activity. You can't do that online!
So is the social aspect of the shows as important as the business?
I would say it's a combination, because they are essentially two different approaches to get information about our clients and their demands, but also for us to communicate what we can do. I believe that the Internet has so much information available nowadays, that the real challenge is to hone in on what you are looking for. You could say the trade shows are simply a different kind of 'search engine' – one where you meet, greet, talk, and get to know people on a social level. It's about finding the right balance.
Looking to the future, will software continue to be an important aspect of Riedel's business?
Software already plays a major role within the company. In fact, a high percentage of our R&D goes into software development, as opposed to hardware. However, this is perhaps not how we are perceived as a company.
Recently we have been discussing a paradigm shift at Riedel, which will see the company move from a pure, hardware-driven product business to one that offers platforms and applications. The application level, which of course is software, is becoming increasingly more important.
So if you come back to Wuppertal in three years' time, you will find the company has changed – to the advantage of our clients of course. Our customers should only have to pay for what they use. The entire business model will change. In the future, it will be about how we can tailor the purchasing process for customers, rather than paying one fixed price for a product.
So what is next for Riedel in 2015 and in the foreseeable future?
Next year will be about promoting and working on the Smartpanel and Tango, as well as the STX-200, which we developed in collaboration with Microsoft Skype. We will start shipping early in 2015. This year will be about making sure these new product introductions go smoothly, which will involve listening to customers and users, receiving feedback, and improving and tweaking accordingly. You might say this is challenge number one for next year. We already have a nice order backlog, so financially speaking things are looking good over the upcoming twelve months.
We will also be opening some more offices. I can't currently tell you where, but we already have two new locations in mind to open new subsidiaries to increase our global coverage. Looking towards NAB, we will be launching a new product in the MediorNet family, which is already in preparation, but I also can't reveal too much about that at the moment!
And obviously these new offices will give you a chance to throw more of Riedel's legendary parties?
(Laughs) Hopefully yes, exactly! The main goal is remaining close to our clients, because we believe in maintaining a direct relationship with users. We should always be in a position to provide clients with any information they require. A close relationship with customers and users is and always will be a key element of what we do here at Riedel.
The interview is also available to read in
BFV online
.
(IT/JP)
Top Related Stories
Click here for the latest broadcast news stories.