Broadcast News
07/01/2015
Level 42 Selects DPA Microphones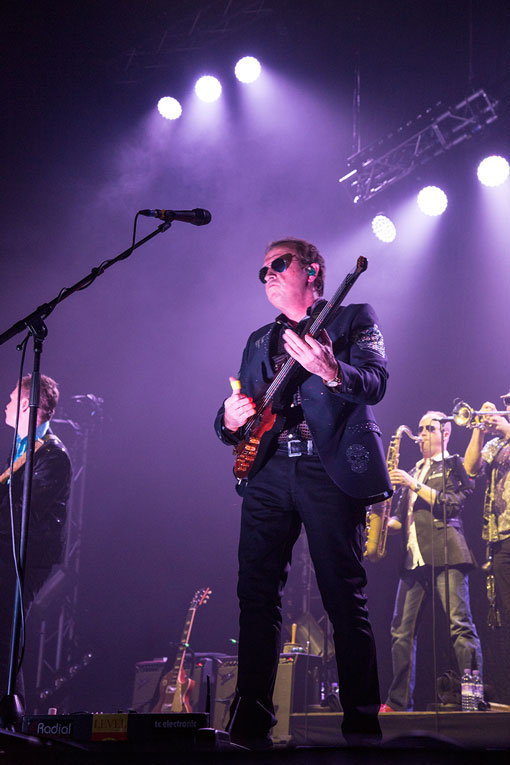 British pop/rock band Level 42 has recently introduced a selection of DPA microphones into its live sound arsenal.
The range includes DPA d:facto™ Vocal Microphones, d:vote™ 4099 Instrument Microphones for brass and toms, and a d:dicate™ 4011 Cardioid Recording Microphone for the ride cymbal.
One of the mainstays of the British music scene for over three decades, the band is currently undergoing an audio transition that has seen them switch to DPA microphones and introduce in-ear monitors so they can do away with a 'whole stage full of wedges'. According to Mark 'Joey' Jowitt, who has been Level 42's sound engineer since 1999, seeing the last of the wedges was a wonderful feeling.
"Thank technology that those days have gone," he said. "It's taken a while, but it's all ears now. Musicians switching to in-ears find it quite disconcerting at first – as you move around the stage nothing changes in level, and that takes some getting used to. But the benefits are immense. In my experience bands become tighter, their pitching improves and obviously FOH engineers love it."
Jowitt added: "With the d:facto, we were impressed by its overall rejection of unwanted residual noise. More often than not, condenser mics on vocals tend to become another drum overhead when you come off them, but there were no such issues with this mic."
The DPA microphones used during Level 42's tour were supplied by Capital Sound Hire and DPA's UK distributor, Sound Network. These included d:vote 4099 Instrument Microphones that earned the respect of the band and the sound crew for their ability to ensure all 18 channels of Pete Ray Biggin's titanic drum kit could be heard.
www.dpamicrophones.com
(CD/JP)
Top Related Stories
Click here for the latest broadcast news stories.