Broadcast News
11/12/2014
Mushroom Magic Lights Oxford Street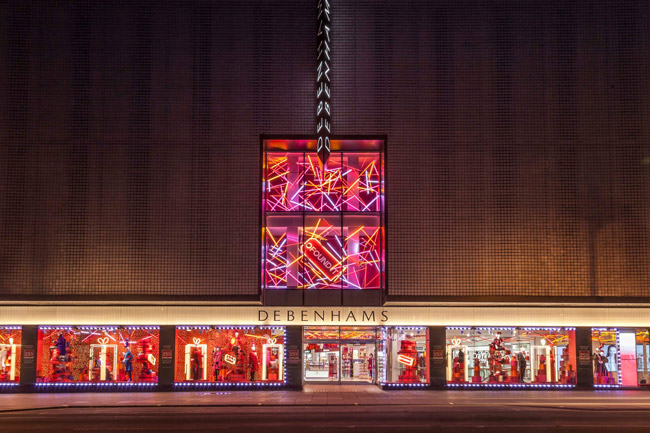 Mushroom Lighting supplied a Christmas lighting display for the Oxford Street, London branch of Debenhams at the beginning of November.
Mushroom MD Paul Butler was contacted by the Debenhams team at the beginning of September. "I met with Ian Dorsett, Creative windows designer at Debenhams to show him some lighting products," says Paul. "One of things I took with me was LED fluorescent tubes. I suggested that we could do something similar to a sculpture I had seen that had a seemingly random design.
"We played around with the idea and I ordered an amount of tubes to set up a demo in their workshop. Everyone loved it and they developed the concept further, with Ian choosing a range of colours that picks up the theme of their in-store displays."
With a final count of over 3,500 fluorescent LED tube lights strung in the windows and above displays around the store, the project took an 18-strong crew just under three weeks to complete, including rigging.
"We used over 4.5km of lighting, hung using several thousand metres of wire and 3000 short connector leads," says Paul. "Each section is a sculpture in its own right and no two sculptures are the same. It took a serious amount of planning."
The 28 window displays feature a 30-second sequence, running every 15 minutes and controlled via Anytronics switch packs and Chromatech controller, using eight channels of control per window.
www.mushroomlighting.com
(IT/JP)
Top Related Stories
Click here for the latest broadcast news stories.