Broadcast News
02/10/2014
JVC Unveils 4K Technology Prototypes At IBC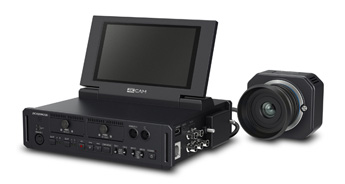 The electronics giant unveiled new additions to the 4K family at this year's show, including the new GY-LS300 Super 35mm sensor 4K camera...
GY-LS300 compact 4K camcorder
– A prototype model of the new GY-LS300 compact handheld camcorder was shown at IBC, featuring JVC's Super 35mm 13.6MP 4K CMOS image sensor, developed by JVC's sister company, AltaSens, for 4K 24/25/30p recording.
The camera uses Micro Four Thirds lenses, originally developed for DSLRs to deliver cinema-quality images in a compact camcorder, and also accepts a variety of stills and video lenses for filmmakers who have already invested in expensive lenses (converters available for PL-mount and other lenses).
This first prototype has a codec and onboard recording system, providing 4K imaging on standard SDHC/SDXC UHS-I U3 memory cards, and its dual codec system also delivers simultaneous recording and streaming for both HD/SD and HD/proxy files. The camera features the 4K CAM logo and marks the start of this new camera series from JVC.
4K technology design concepts
– JVC provided a glimpse into an expanding 4K future at NAB earlier this year, with new technology design concepts, and these models were also on show at IBC. Signalling JVC's entry into the digital cinematography marketplace, the GY-LSX1 is a 4K shoulder-mount production camera equipped with a Super 35mm sensor and PL lens mount, which delivers full 4K imagery at up to 50/60p, as well as full HD imagery at up to 240p for super slo-mo applications. Like the handheld GY-LS300 camera, the GY-LSX1 features the new 13.6 MP 4K CMOS image sensor and records to SDHC/SDXC UHD-I U3 memory cards.
The new Super 35mm CMOS image sensor is also being integrated into a two-piece mini 4K camera system, the GW- SP100. This tiny camera produces 4K video, with 4096x2160 or 3840x2160 resolution at up to 50/60p recorded locally to SDXC UHS-I U3 memory cards. It has an interchangeable MFT lens mount system, chosen due to its very shallow flange depth. The design concept camera system features a video unit with a foldable and detachable 7-inch HD LCD monitor and offers the same IP capabilities as the GY-HM890 camcorder, with HD wireless video transmission and wireless camera control.
The mini 4K camera can also be attached to the MT-GB001 gimbal option; this may be used with a helicopter system for aerial shooting, with anti-shaking and anti-blurring technology ideal when used with a handheld system.
www.jvcpro.co.uk
(IT/JP)
Top Related Stories
Click here for the latest broadcast news stories.