Broadcast News
25/09/2014
Encore Appoints Senior Colorist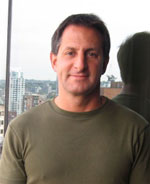 Encore has appointed Mark Wilkins as its Senior Colorist.
He will be working out of the post production and VFX company's Hollywood location. With over 30 years in the industry, Wilkins has color graded many high-profile, award-winning shows including "Two and Half Men," "The Big Bang Theory," "The Simpsons" and "Silicon Valley," among others.
"Mark is a top-notch colorist and all-round great guy. We're thrilled to have him on board and are eager to put his considerable talents to good use for Encore clients," said Encore Executive Vice President Bill Romeo.
Wilkins comes to Encore, a Deluxe Entertainment Services company, from Technicolor, where he specialized in episodic television and also handled some feature films. He has previously worked with R!OT, a former Encore sister company, coloring commercials and music videos, in addition to freelance projects. Currently grading with Blackmagic Design's DaVinci Resolve, Wilkins in now back working in the same bay where he colored "Doogie Howser, M.D." more than 20 years ago.
"Bill and Deluxe are fostering an intimate, family-like environment at Encore that is conducive to creativity," Wilkins noted. "It's a small industry and there are so many great people in the business who really know their stuff. The transition to Encore has been really easy and it has been wonderful to see so many familiar faces again."
www.encorepost.com
(CD/MH)
Top Related Stories
Click here for the latest broadcast news stories.