Broadcast News
20/08/2014
Purpose-Built News And OB Fiber Systems Save Time And Money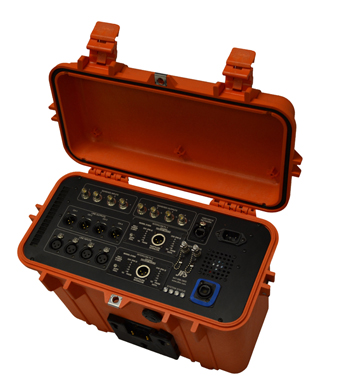 Much has been written about portable fiber systems, and over the past few years, more challenging OB signal demands have made these systems an almost essential part of most broadcasts. However, simply putting fiber gear into a road case does not make a portable system, says Yohay Hahamy, President and CEO, Joseph Electronics.
Transporting uncompressed HD signals over long distances absolutely requires fiber. In order to move high-bandwidth signals over copper cable, you would need good coax cable with perfectly terminated BNCs, and even then, you might only be able to go 150 meters. With various types of multiplexing, we can easily add additional signals - such as analog and digital audio, intercom, data, and Ethernet - onto the fiber.
In doing so, fiber systems can handle all signal requirements, including for announcer booths or remote studios.
The Telecast Viper system set the standard for portable point-to-point fiber transport more than 15 years ago, and hundreds of those systems are still in use today. Ideally, portable fiber systems must fulfill three basic requirements. First, the outside case and inside components must be able to survive the harsh world of outside broadcast and electronic newsgathering (ENG). That means that the outer case must be durable and have a lid of some kind to protect connectors from the elements and extreme heat and cold. Next, the systems should have multiple power options to be able to operate on local power, remote power from a hybrid copper/fiber cable (distance limited) and/or a standard broadcast battery. Finally, they must have some degree of field customisation of signals and/or directions.
These are basic design considerations, but most users deal regularly with specific signals for specific requirements. For that reason, purpose-built systems, which can be customised at the factory, represent the ideal combination of ruggedness and convenience. These systems are built with the exact signals that a user needs, so the only change required in the field is to swap the directions of signals.
In ENG, the first crew to get to the scene wins. When the news truck arrives, many factors determine how close it can park to the action. Then there are other unknowns: How is the RF environment? Will the wireless equipment work reliably? A copper solution might include heavy multicore camera cables plus mic, intercom, and maybe even power cables for the camera and monitors. With a fiber solution, all of the signals travel on a single cable - even the power, if needed - so that the remote crew is completely self-contained.
Because a single cable connects the van to the shoot location, troubleshooting is easy, and setup and tear down are extremely fast. And in a fiber solution, the signals all look great and are completely free of RF or EMI interference.
For ENG, speed and convenience are the major reasons to use fiber. In outside broadcast, there are two more. First, fiber cables weigh significantly less than copper, and they are signal-agnostic. No matter what type of signal - video, audio, data, or intercom - it all travels on the same fiber cable. Given the weight limits on OB vans, fiber has obvious advantages. The other big advantage is distance. Fiber can transport signals over much longer distances than copper, which means fiber really shines on large-scale events like golf, auto racing, or downhill skiing, where signals are spread out over vast areas.
Fiber systems have long been perceived as too expensive, and many of the early systems were. Not only that, but early fiber systems had limited customisation options, so customers had to make concessions on the signal counts or, worse, pay for signals they would never use. Today's best systems are completely customisable so that you pay only for what you need, and often you can get extra audio or video paths to make the system work across multiple broadcast scenarios.
Another big complaint about fiber systems was poor intercom performance. That issue has been solved with great-sounding, easy-to-use interfaces built specifically for the challenges of two-wire, powered intercoms.
Fiber systems have evolved from novelty to mainstream, and the barriers to using them have largely disappeared. Today they have far more signal-carrying capacity, are much easier to use, and are far less expensive than the systems of the past. At Joseph Electronics and Joseph Fiber Solutions, we have been putting fiber systems together for broadcasters for nearly 10 years. We draw from more than 75 years of internal broadcast experience and supply hardware from the most respected fiber vendors in the broadcast industry.
The article is also available to read in BFV
online
.
(IT/CD)
Top Related Stories
Click here for the latest broadcast news stories.