Broadcast News
18/08/2014
Hiltron Releases HMFC Antenna Mount At IBC2014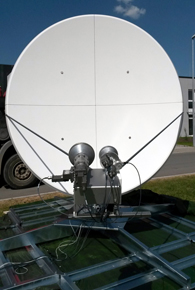 Hiltron has chosen IBC2014 to introduce its new HMFC motorised feed-change antenna mount. The HMFC facilitates positioning and repositioning of waveguide horns on a motorised tray table.
The solution can be utilised for antennas of various types and sizes. Two waveguide horns of different sizes can be attached, which allows signals from two different frequency bands to be received electrically selectable via a single antenna. Movement of the table is controlled via the Hiltron's HACU antenna control software. The waveguide horn for a desired frequency band can be aligned into the focal point of the reflector within 20 seconds.
The Hiltron HMFC can perform automatic changeover of the operational feed as well as sequential measurement of different frequency bands. Available options include inclined-orbit tracking, high-accuracy optical encoders, extended temperature tolerance and increased protection against exposure to salt water. A handheld control for manual alignment, plus integral de-icing can also be specified.
The mount operates via an IP-connected PC. The HMFC's control GUI displays all the information required to set and maintain azimuth, elevation and polarisation, including current position, target position and a database of potentially accessible satellites. Once a satellite is selected, access parameters can be calculated at the press of a button. Azimuth and elevation can be adjusted at up to three different speeds. Typical travel rates are 2.5 degrees per second (azimuth), 1.7 degrees per second (elevation) and 3.0 degrees per second (polarisation).
Azimuth movement is accomplished via an axle bearing with a drive motor. Elevation movement is via a jackscrew with a further drive motor. This design, combined with the use of resolver-angle indicators, provides highly reliable positioning far beyond the stability and precision of commercial-grade actuator devices. The HMFC can operate in winds of up to 125 kilometres per hour and survive gusts of up to 200 kilometres per hour.
www.hiltron.de
(IT/JP)
Top Related Stories
Click here for the latest broadcast news stories.