Broadcast News
11/08/2014
Riedel Sets Off For BIRTV2014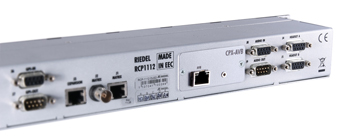 Riedel has announced its lineup for this year's BIRTV show, August 27-30 at the China International Exhibition Center in Beijing.
MediorNet 2.0 and MediorNet MetroN
At BIRTV2014 Riedel will showcase its MediorNet real-time media network. MediorNet 2.0 is a firmware update for the MediorNet real-time media network that provides video router functionality and high-speed rerouting. The MediorNet MetroN is a 2-RU large-scale core router that provides a real-time routing capacity of 64x 10G ports. MediorNet MetroN can function within a larger MediorNet installation, interfacing with other MediorNet frames via fiber.
Virtual Key Panel App for Artist Intercom System
Riedel's Artist virtual key panels enable the use of smartphones and tablets as control panels in combination with the Artist digital matrix intercom system. The user operates the virtual control panel using a touchscreen interface that can be configured via Riedel's Director software.
Integrated AVB Control Panel for Artist Digital Matrix Intercom
Riedel Communications will also feature its new CPX-AVB expansion card for Riedel Artist 1100 series control panels. The CPX-AVB provides AVB interfacing for Riedel Artist digital matrix intercom control panels.
The CPX-AVB is a dedicated card that fits in the expansion slot of the Artist 1100 series OLED control panels. The card turns the control panel into an AVB-enabled device, making the panel's ports available within the entire AVB network. The expansion card converts two Artist ports to the AVB network and vice versa.
To enable further signal integration, Riedel offers a suite of AVB-enabled interfaces for its Artist intercom platform. In addition to the existing Connect AVB x8 panel interface, the Connect AVB C8 interface offers eight AES connections on BNC. The device supports both bidirectional AES for intercom panels and unidirectional transport for broadcast AES.
The Connect AVB A8 interface provides eight analog inputs and outputs on RJ45 connectors. Riedel's AVB Manager offers full AVB network management and features system-wide control of all AVB components.
"Riedel has been a supporter of BIRTV for many years, and we have seen tremendous growth both for the show and the region," said Joe Tan, General Manager, Southeast Asia, Riedel Communications. "We have made dramatic improvements to our MediorNet products to include more on-board processing and extended routing functions to streamline operations and save money. We will also be showing our AVB solutions as well as our new virtual control panels for Artist."
www.riedel.net
(IT/JP)
Top Related Stories
Click here for the latest broadcast news stories.