Broadcast News
05/08/2014
HHB Supplies Olympic Cinema With DiGiCo SD11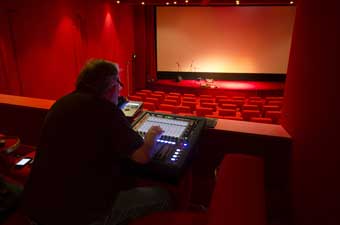 HHB Communications Ltd. has supplied Olympic Cinema with a DiGiCo SD11 digital mixing console for its live concert series.

Olympic Cinemas has modified its Olympic Recording Studios into modern cinema and performance theatres. Engineer Chris Kimsey (The Rolling Stones, Peter Frampton, Duran Duran) began his career at Olympic and has now returned as the sound consultant and engineer.
The DiGiCo SD11 was chosen to provide FoH duties for gigs. "DiGiCo was highly recommended by Gary (Langan, of Art of Noise), and after hearing how great it sounds I knew we had to go with the SD11. Its sonic characteristics are outstanding, especially the mic pres.
"The layout of the board is very intuitive and there is an immense amount of R&D that goes into the design of the consoles that makes them very intuitive and built for speed. I continue to discover more options on the board every time I use it."
The SD11 is a 19-inch rackmount or tabletop mixer employing DiGiCo's Stealth Digital Processing, FPGA-based digital processing engine. A 32-channel mixer with 12 faders and 16 mic pres, SD11 offers a range of mixing features via a 15-inch touch screen and a set of controls. Its software platform provides options that can be tailored to live, recording and broadcasting applications. When used in conjunction with the DiGiCo D-Rack, SD11 delivers a host of additional I/O and state-of-the-art networking options.
HHB Sales Manager Andrew Hingley comments: "Olympic Cinemas are absolutely fantastic and it is great to see Chris so involved with specifying sound equipment and mixing the concerts. The feature set of the SD11 is outstanding for a console of its size and Chris has been very impressed with the onboard effects and dynamics. It is a great honour to be a part of the new phase of Olympic and to work with Chris on this project."
www.hhb.co.uk
(IT/MH)
Top Related Stories
Click here for the latest broadcast news stories.