Broadcast News
05/08/2014
Atomos To Precipitate HDMI Standardisation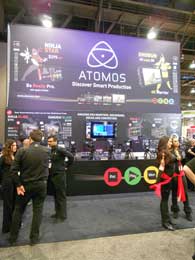 Atomos have announced a move to standardise HDMI for the video industry. The company says it will achieve this via "focusing on ease of use and customer experience".
"Atomos, the company that are famous for making life easier for professionals, have now made HDMI more usable and one step closer to the SDI standard by implementing auto start/stop trigger and timecode over HDMI," a statement said.
"With this standard, users can connect using HDMI and automatically trigger functions on external devices from the camera itself, just as they have for years with SDI."
"We are very proud to be defining a new standard in such an established market place. We love HDMI, but as it gets more popular on the camera side we need to help make it work in the pro world." said Jeromy Young, CEO and Founder of Atomos.
"Historically this has only been achieved in the tech industry by creating an open standard... which is what we've done."
The company has also developed its own range of HDMI cables with tight fitting connections and coiled cable lengths, allowing for less clutter on the tripod and easing the pull at the HDMI connection.
"Initially we developed these cables purely to support the Ninja Star, our lightweight, pocket size ProRes recorder," said Jeromy Young, "but after consulting with our user base we soon discovered no one had yet developed a complete range of HDMI cables purely for ProVideo users in our space."
Available from 15 August, the range of HDMI cables includes a right angled HDMI micro to micro/mini and full coiled cables in lengths of 30cm (45cm extended). HDMI mini to full and full HDMI to full HDMI connections in lengths of 30cm to 50cms (65cms extended).
Prices range from $19.95 to $29.95.
Atomos will be at IBC2014 Hall 9 D.25 in Amsterdam 12-16 September 2014.
www.atomos.com
(IT/JP)
Top Related Stories
Click here for the latest broadcast news stories.