Broadcast News
23/07/2014
Italy's TV2000 Deploys Dalet News Suite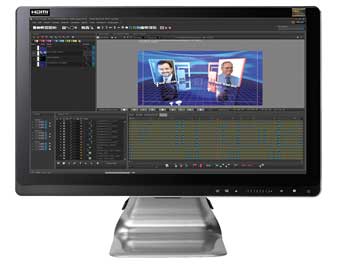 Dalet Digital Media Systems has announced that TV2000 has deployed its News Suite solution for production, broadcasting and web publication and Dalet Media Life to manage program preparation.
TV2000 is Italy's primary television channel for news related to the Pope, the Vatican and the Catholic Church.
The Dalet MAM manages the business and operational functions including lifecycle media, essence and metadata management. It also provides workflow orchestration.
Each Dalet solution offers dedicated toolsets. Dalet News Suite includes a complete Newsroom Computer System (NRCS) and tools for editing, ingest, playout, repurposing, multimedia distribution and archiving. Dalet Media Life includes fully integrated tools for functions such as bulk ingest, automatic QC, compliance and rough-cut editing, language/captioning and content repurposing. System deployment was undertaken with the assistance of Dalet's integration partner MediaPower.
"TV2000 quickly realized the advantage of using the single Dalet MAM platform and database to manage both news and content preparation in the same system," says Massimo Berardi, general manager, Dalet-Italy. "All the toolsets for the unique tasks of each workflow – whether video production in news or QC and captioning in program prep – are fully integrated and accessible to everyone who needs them.
"This enterprise approach offers great flexibility and a good return on investment and helps TV2000 to produce its high-quality content more quickly, more efficiently and for more platforms."
The Dalet system at TV2000 includes 45 workstations for News and 15 workstations for program preparation. News content is broadcast live from three broadcast studios throughout the day. Four Dalet Brio video servers are configured for a total of eight inputs to handle SD-centralized ingest. These Brio servers have 16 outputs, which are distributed among three different studios for playout and contribution.
XDCAM and P2 imports modules allow users to import content from Sony/Panasonic camcorders. Ingest operators use the Dalet Media Logger to enter metadata according to the channel's preferred fields to ensure metadata integrity and search and retrieval from the Dalet MAM catalogue, as well as from the existing DIVArchive system.
The MAM platform included with Dalet News Suite and Dalet Media Life unifies the different components of TV2000's existing infrastructure to provide a workflow. Some of the Dalet third-party integrations at the channel include the Baton Quality Control, NETAPP storage, Harmonic ProMedia Carbon transcoders, Etere automation and Front Porch DIVArchive. Dalet Xtend integration for Adobe® Premiere Pro® editing systems has also been deployed.
Xtend facilitates collaboration between the NLEs and Dalet MAM by providing transparent content and metadata sharing including inherited metadata such as rights and usage.
www.dalet.com
(IT/JP)
Top Related Stories
Click here for the latest broadcast news stories.