Broadcast News
03/07/2014
Audiopole Showcases HARMAN's Studer Vista X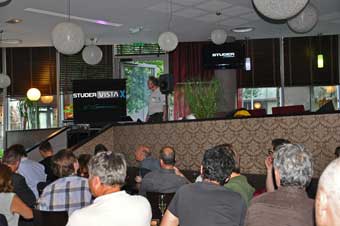 French distributor Audiopole recently showcased the new HARMAN's Studer Vista X and its Infinity Core technology in Paris.
Held at the restaurant Archibald, Jean-Philippe Blanchard of Audiopole presented the Vista X and Infinity Core to more than 50 end-users and journalists in attendance.
The Studer Vista X console uses aviation-standard system redundancy that takes advantage of four processors and two independent DSP cores with instant change-overs. The console is able to overcome failures evident in conventional TDM-based systems.
It borrows previous Soundcraft/Studer technologies such as VistonicsTM touchscreen and FaderGlowTM channel illumination and is also able to deliver 800+ audio channels and 5,000 inputs and outputs.
"As this is the first public presentation of the Studer console and the Infinity Core in France, we are proud to officially present this new technology to the thriving French broadcast market. France is really one of the main European markets for Studer, we have already sold over 100 Vista consoles in France and we hope to sell many more," said Blanchard. "At this event, the end-users and network broadcasters in France were able to get their hands on the console they have been waiting for.
"By offering huge capacity and processing power that integrates well with existing infrastructures, the Studer Vista X is engineered to the highest standards of the industry and is a true reflection of the services that we provide.
"Our customers were also able to check the new software version for Vista 1, which now includes Lexicon effects as well as the features of the Vista Remote Bay."
Studer European Sales Director Karl Chapman also attended the event. "We have had terrific feedback from our customers here in France and elsewhere around the world," he said. "The Vista X and the Infinity Core is an exciting step forward in technology that offers our customers even greater flexibility and resilience when designing system solutions."
www.audiopole.fr
Top Related Stories
Click here for the latest broadcast news stories.