Broadcast News
01/07/2014
Pinewood Expansion Approved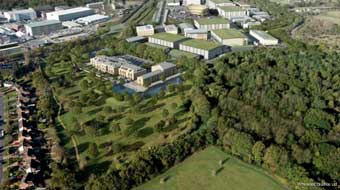 Pinewood Studios is to expand, following the granting of planning permission by the UK's Secretary of State for Communities and Local Government.
The Pinewood Studios Development Framework (PSDF) is expected to provide up to £194m of private sector infrastructure investment and support over 8,100 full time jobs, while also creating some 3,100 net additional jobs, according to Amion Consulting.
It is also thought the project will produce an extra £149m in Gross Value Added, an additional contribution to the Exchequer of £36m per annum and will generate a further £37m per annum in UK exports.
The project comprises doubling the existing Pinewood Studios by adding a total of 100,000 sq m of new facilities, including studios and stages, workshops and production offices.
The news follows a previous rejection in May of last year by the local governing body, South Bucks District Council.
Commenting on the announcement, Ivan Dunleavy, Chief Executive of Pinewood Shepperton, said: "Our project builds on the success of the Government's policy for the creative industries and addresses the shortage of stage space in the UK. As a result of today's green light from the Secretary of State, thousands of much needed new jobs will be created in this growing sector of the economy. We want to begin construction as soon as possible. I'd like to thank colleagues both within and outside the industry, for the tremendous support they have given the project."
Adrian Wootton, Chief Executive of the British Film Commission and Film London, said: "This news is hugely positive on several levels. Not only does it address the UK's growing need for stage space, and adds significant value to the UK's offer to domestic and international film and television producers, but it also demonstrates the Government's continued recognition of the importance of the UK's Creative Industries in terms of job generation and inward investment."
Amanda Nevill, Chief Executive, British Film Institute said: "Pinewood remains one of the key building blocks of the UK film industry and there are many other smaller companies working in the creative industries today that depend on the films it attracts for their own growth. The capacity of the studios in the UK to respond to opportunities is key to the on-going success of British film. In order to secure inward investment and help develop and nurture the next generation of home grown talent, the BFI supports Pinewood's ambitions to expand and invest."
Pinewood Studios Development Framework (PSDF) is a £200m long-term scheme designed to address increasing demand for production facilities in the UK and deliver growth for the next 15 years.
pinewoodgroup.com
(IT/MH)
Top Related Stories
Click here for the latest broadcast news stories.