Broadcast News
10/06/2014
Grass Valley Upgrades Brazil HD Production Workflow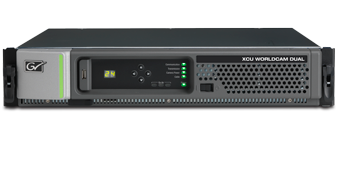 Grass Valley is providing Brazil's TV Serra Dourada, located in Goiânia, with a flexible new camera setup that includes seven LDX Flex advanced imaging cameras and seven Elite XCU (eXchangeable Control Unit) base stations with triax transmission, as part of the station's new HD news production workflow.
TV Serra Dourada broadcasts news, weather and other information across Goiânia to millions of viewers. "We were simply looking for the most cost-effective and usable camera technology on the market, which is undoubtedly the LDX Flex coupled with the XCU," said Sebastião Claudino, engineering manager, TV Serra Dourada. "The cameras have a low cost of ownership and they deliver superior image quality and performance. Plus, with the removable XCU base stations, we can minimize operational costs and streamline reconfiguration for each production. And when we're ready to upgrade, our cameras will be ready too."
A cost-effective acquisition camera, the LDX Flex is the entry-level offering in Grass Valley's LDX Series of imaging cameras that also includes the LDX Première, LDX Elite and LDX WorldCam. The LDX Flex offers single format 1080i or 720p acquisition and uses the same accessories as its LDX counterparts.
The cradle system of the XCU base station can be pre-mounted and pre-wired in the rack, eliminating cabling errors when base stations are moved.
"Our LDX range has been well received by broadcasters around the world because it is simply the best camera platform available," said Alberto Santana, channel sales manager, Brazil, Grass Valley. "We designed the LDX Flex to combine business flexibility, operational excellence and outstanding image performance so that broadcasters like TV Serra Dourada can cover any type of production and stay within their budget."
new.grassvalley.com
(IT)
Top Related Stories
Click here for the latest broadcast news stories.