Broadcast News
04/06/2014
Hollywood Set For Cine Gear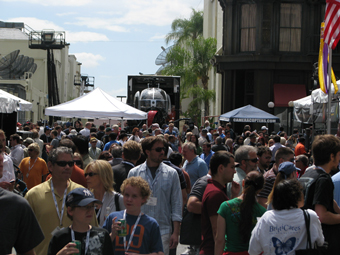 Cine Gear Expo 2014 – Los Angeles is set for June 5 – June 8, 2014 at The Paramount Studios in the heart of Hollywood, California, USA.
The Cine Gear Film Series and Competition starts the jam packed weekend with the screenings of three Features, five Student and five Independent Short finalists on Thursday, June 5 in The Screening Room #5. The winners in each category will be announced and crowned at the Awards Party on Friday night June 6 at The Paramount Theater and Paseo Grounds.
Acclaimed Cinematographer, Adam Greenberg, ASC, Oscar nominated Director of Photography who lensed such blockbusters as Three Men and a Baby, Ghost and Terminator 2: Judgment Day will be this year's recipient of The Cine Gear Expo Cinematography Lifetime Achievement Award.
The Cine Gear Expo 2014 Technical Lifetime Achievement Award will be presented to Mr Andres Valles and Mr Alfredo Valles, in recognition of the significant contributions Servicevision has made to advance the art and craft of film making. Camera and Lens Service Providers, Panavision and Birns & Sawyer will be honoured respectively for their 65 years of service to the industry at the VIP Reception Friday night.
Cine Gear Expo opens at 14:00 on Friday, 6 June to an incredible varied range of vendors and manufacturers who will show their latest tools and services to enhance the creative vision and make complex jobs easier and faster to fulfill. Stages 31 and 32 are the indoor exhibit areas adjacent to the New York Street back lot, the outdoor show zone.
Many exhibitors entered their new products into the Technical Awards Program this year.
The Technical Awards team led by Director / Cameraman Peter Anderson, ASC consists of Dwight Campbell, Tad Marburg, Harry Rez, Gary Ushino.
The popular Premiere Seminars are supported and organised by a wide range of associations, unions and manufacturers who will share their vast knowledge and experience with Cine Gear attendees. Seminars and panels will be held in the Paramount, Lansing and Screening Room #5 on June 6 and 7 and are complimentary to Cine Gear guests.
The Master Class Seminars on Sunday June 8, held at the Mole Stage in Hollywood, are an outstanding mix of educational opportunities that range from 'The Dynamics of Digital Distribution: What choices do I have to maximise my audiences in the digital competitive market?' and the always popular 'Lighting Workshop' taught by such great Cinematographers as Christopher Chomyn, ASC and Adam Greenberg, ASC.
As part of the Cine Gear Expo experience, Band Pro is sponsoring an exclusive 4K screening of the beautifully shot film 'Samsara', from acclaimed director Ron Fricke with a Q & A by Producer Mark Magidson, and Sony Electronics is hosting an special 4K screening of the Sony Pictures Entertainment feature film 'A Million Ways To Die In The West', from director, producer, co-writer and actor Seth MacFarlane. The movie is the latest release shot with Sony's F55 digital motion picture camera, and it will be shown at the Paramount Studios Theater in 4K. Sony is also planning a panel discussion with the filmmakers and the production team. Be among the first to see the newest 4K blockbuster and hear first-hand from the professionals who created the movie. The event will be held on Friday, June 7, 2014, with the activities beginning promptly at 19:00. This special event is open to registered Cine Gear Expo attendees and Sony guests.
Join Industry colleagues, meet, greet and catch up with vendors and friends and engage in that all important activity of networking. The food, drinks, activities and casual atmosphere on the studio lot encourage guests to linger for more than one day at Cine Gear Expo.
Cine Gear Expo Exhibit Hours
Friday June 6, 2:00pm – 9:00pm
Saturday June 7, 10:00am – 5:00pm
Film Competition Screenings
Thursday, June 5, 12:00pm - 8:30pm
Master Class Seminars
Sunday, June 8, 9:00am – 5:00pm
Don't miss Cine Gear Expo - New York City with dates being announced shortly. The third biennial conference will include Exhibits, Premiere Seminars, and Film Series Competition winner screenings, New Product Announcements, Demonstrations, Special Events and more.
The article is available in RFV
online
.
(IT/JP)
Top Related Stories
Click here for the latest broadcast news stories.