Broadcast News
08/05/2014
Getting A Grip On Your Production...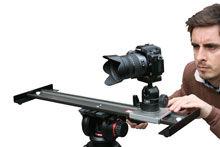 Getting the right equipment to add value to your production can be difficult, especially when there are so many different products available, says Mark Scotton, Sales Manager, Cameragrip.
Creating moving shots can be done in a variety of ways by using products such as jibs, cranes, tracking dollies, sliders or stabilizers, the key is identifying which item is going to be best suited to your requirements and which version would be the best to purchase.
A good starting point for your camera kit is a sturdy tripod. It is worth investing in a decent quality tripod, as it is not just used for mounting your camera. A tripod can be used as a base for mounting a slider tracking system, a camera jib, a DSLR camera rig or even a couple of cameras with a twin camera mount. Having a decent set of legs and a fluid head will give you greater options as you increase your kit, so start as you mean to go on. Investing in a quality tripod from a renowned manufacture such as Manfrotto, Libec or Vinten should give you a good starting point.
Camera Sliders have made a massive impact on the tracking system market in recent years and are a great way of achieving a short tracking shot. Their compact size and the fact that they can be used in a few different ways makes them an ideal piece of kit. The two leading manufacturers of camera sliders in the UK are Glidetrack and Hague Camera Supports, who both offer a variety of different systems at different lengths. Hague Camera Supports have also developed a motorised slider option that is compatible with the Glidetrack systems, as well as their own Camslide range. The motorised system allows much greater control when using a slider system, especially at slower speeds.
Clamps & Brackets
Attaching cameras to a variety of strange positions can achieve some extraordinary shots or just simply help to capture a shot that is not possible with the camera handheld. The amount of cameramen I speak to who constantly carry with them a range of clamps, brackets, spigots and adaptors is increasing and just investing in a few bits will really help ensure you do not get caught out on set. There is a dedicated 'Clamps & Mounting Brackets' section on the Cameragrip website that has been described to me as an 'Aladdin's Cave' and offers an unbelievable range of different solutions.
I would start by adding a couple of Manfrotto superclamps, some bowl mounts, a few spigots and adaptors and an adjustable arm to your cart and then tailor the more diverse clamps to specific requirements you may have. Remember these bits will serve you well for many years, covering several jobs, so a variety of different items that can be used together is very beneficial.
Stabilizers
allow you to get true floating shots whilst moving with a camera, and the most well-known brand in this field is Steadicam. The Steadicam stabilizing systems now range from full size professional body rigs right down to iPhone Steadicams, with the price varying considerably depending upon the model you are looking at. Certainly if you are at the professional level with a budget that would facilitate a full steadicam rig then they are a great option, but if you are working with a more modest budget there is still plenty of choice available.
There are another couple of US based companies that offer stabilizer systems; but if you want something a bit closer to home, Hague Camera Supports have over the last 10 years become one of the leading brands worldwide for handheld units. They have a few different stabilizers available for different size camera set-ups and certainly their most popular stabilizer has, for many years, been one of the best selling around. The most important thing to do before you start shopping for a stabilizer is to get your camera set-up how you are planning to use it, which usually involves a wide-angle lens plus other accessories, and then check the total weight.
All stabilzsers have a specific weight range for which they are suitable and it is the total weight of the camera setup when fully loaded - not just the camera weight in the manual - that is the important factor to choosing the correct model.
Jibs & Cranes
- Arguably the piece of equipment that will give you the greatest range of movement is a camera jib. Also known as Cranes and Booms, these wonderful pieces of equipment allow you to get a vast range of movement including the high crane type shots. When you talk to someone about jibs, the natural thought seems to be achieving great height, which is of course possible with certain systems, but it is not all they offer.
Smaller jibs and cranes are available that allow you to get smooth movement in more confined spaces, such as an office location, whilst still providing that range of movement. Other jibs are designed to be lightweight and are ideal for taking to more remote shoots and there is the opportunity to customise certain cranes with remote controlled power heads, depending upon the set-up you desire.
In the UK, companies like Hague Camera Supports and Polecam offer a great variety of systems starting from as little as a few hundred pounds through to a few thousand, so have a look and see what would meet your requirements and budget best.
Tracking Systems come in several forms, from a ride on type system where the cameraman is pulled along whilst concentrating entirely on the shot to small table top dollies which are controlled as you move with them. When trying to buy a tracking system it is important to identify the shots you are looking to achieve and then match that to the most appropriate system.
Systems available in the UK now include ride on tracking systems, tripod tracking dollies, table top dollies, mini dollies as well as more mind expanding systems like the Hague Ladder Dolly, which will run on a standard ladder. This intriguing bit of kit breaks down small enough to fit in your suitcase and, with ladders available worldwide, can easily be taken abroad. Using a ladder supported at each end also allows you to go across uneven or rough terrain.
The article is also available in Broadcast Film & Video
online
.
(IT/JP)
Top Related Stories
Click here for the latest broadcast news stories.