Broadcast News
20/03/2014
Test And Measurment: Leader's NAB Line Up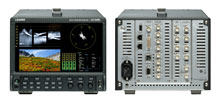 Leader Instruments will exhibit the latest additions to its range of broadcast-quality test and measurement solutions at the 2014 NAB Show, Las Vegas Convention Center, April 7-10. Also on demonstration will be established products in the Leader range, plus the latest broadcast-related technology from PHABRIX, Eyeheight and Trilogy.
Leader LV5490 SD/HD/4K picture and signal monitor
Leader's LV5490 multi-display picture and signal monitor won three awards when introduced in 2013. Now fully deliverable, it supports all video production and transmission resolutions in common use from 525 and 625 standard definition up to 3840 x 2160 and 4096 x 2160 4K.
Equipped with four 3G-SDI/HD-SDI/SD-SDI input channels plus a high-quality wide-viewing-angle 1920 x 1080 9 inch flat-panel display, the LV5490 allows precise matching of studio or outside broadcast cameras. It can be used in a very wide selection of test and measurement roles and also doubles as a picture monitor for production crews working on location.
Test and measurement capabilities include waveform, vector and picture monitoring, SDI signal data analysis, cyclic-redundancy-check error, embedded-audio error, event log, data dump and timing display. Leader's CINELITE® II toolset also comes as a standard feature, allowing easy assessment of relative exposure and overall luminance.
The LV5490 allows waveform, vector and picture display can be viewed simultaneously on its 9 inch full 1920 x 1080 HD-resolution screen. Simultaneous display and overlay display of multiple SDI inputs are possible. Size and location of individual channel displays can be adjusted using a USB-connected pointing device.
4K images can be divided into upper left, upper right, lower left and lower right areas and output via as four-wire or two-wire 3G-SDI channels. The LV5490 also has a DVI and HD-SDI rasterizing monitor output.
Optional digital audio monitoring and analysis tools include 4 x 4 channels of SDI audio de-embedding, lissajous display, surround sound display, volumetric display and Dolby decode. Up to 16 channels of de-embedded SDI audio can be output as discrete AES3 feeds.
Leader FS3140 quality-control software
Making its NAB debut this year, the Leader FS3140 combines the waveform and vectorscope displays which experienced video engineers and creatives rely upon plus powerful automated QC software. Designed for use in analyzing file-based video and audio, it can be deployed on a web-based Windows server, allowing easy rollout across Windows, OS X or Linux environments.
Control of the FS3140 is via an intuitive interface which allows QC parameters to be user-configured from a comprehensive portfolio of tests, many of which are unique to Leader. A test specification can quickly be imported into the FS3140 for customized content verification.
Fault reporting is generated in XML for easy reading. An integral media player gives fast access to the exact frame where an issue is identified, allowing efficient fault inspection and analysis.
A key feature of the FS3140 is its ability to identify issues which can be seen and heard. This is achieved using perception-based artifact detection, multi-level block-noise analysis, black-frame detection, freeze-frame detection, silence detection and filtered audio noise sensors.
Other file characteristics which can be checked with the FS3140 include metadata, macroblock noise, letterboxing, pillarboxing, profane captions, blurring, comb artifacts, field swaps, peak audio levels, test tones, audio transients, channel phase, average loudness and mono-in-stereo.
HD file-checking is real-time or faster on approved PC hardware with multi-core CPU support and NVIDIA® CUDA graphic technology. SD files can be processed at 2 to 5 times faster than real-time.
The basic system has one verification unit to test one file at a time. QC capacity can be expanded without limit by adding verification units on the same physical machine or on separate physical or virtual machines.
The Leader FS3140 is compatible with a very wide range of codecs including H.264, ProRes, JPEG 2000, RED, MPEG-2, EXR, Cineform, VC-1, WMV, DV/DVCPro, DPX, Flash VP-6/7 and RAW. Audio codecs supported include PCM (WAV/AES/BWF), Dolby Digital (AC-3), DD+ (EAC-3), Dolby TrueHD (MLP), Dolby E, AAC, HE-AAC, MPEG- 2 (L1, 2, 3), WMA Standard/Pro and MPEG-1.
Leader's NAB Show 2014 exhibit is located in the Central Hall at booth C9511. Representatives will include Leader Japan president Noboru Kitagawa, Leader America president Masahiro Sawa, Peter Anderson, Richard Heath, Armando Ishimaru, Mike Mizusawa and Christian Young. Colleagues from PHABRIX, Eyeheight and Trilogy will also be in attendance.
The article is available in the online edition of RFV
here
.
(IT/MH)
Top Related Stories
Click here for the latest broadcast news stories.