Broadcast News
12/03/2014
Waltham Forest Council Opens Moving Image Competition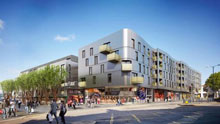 Waltham Forest Council is calling for established artists, animators and filmmakers to submit proposals for 'Reel Walthamstow', a moving image competition to mark developments towards opening of Walthamstow's new leisure destination, The Scene at Cleveland Place.
Artists are being challenged to produce a ten-minute short film that is representative of the area and its community. Two successful submissions will be screened at the new Empire Cinema; the centrepiece of The Scene development which is due to open at the end of 2014.
The artists have also been asked to incorporate community participation elements in their submission, to encourage engagement with a range of groups and communities around Waltham Forest.
The budget provided to each successful artist will be £15,000.
The project is being overseen by The Scene's Arts Steering Group. The Steering Group will ensure commissioned projects take account of the other art and community projects already being undertaken in the area.
Councillor Ahsan Khan, Cabinet Member for Health and Wellbeing, Waltham Forest Council, said: "Thanks to the likes of Alfred Hitchcock and Peter Greenaway, Waltham Forest has a rich film heritage. With a cinema returning to the borough for the first time in a decade, now is the perfect time to see that heritage enhanced still further and Reel Walthamstow sounds like a great opportunity for the residents to get involved in a truly innovative art project."
Ashley McCormick, project curator, said: "This innovative project is an opportunity for artists to explore and develop what binds and inspires communities - physically, conceptually, politically, economically and subliminally."
Submissions are being invited by Monday 21 March, which involves artists submitting a short document describing the proposed concept of their moving image and also the activities or methods for engaging local communities.
Artists also need to provide a budget breakdown and production schedule. The Arts Steering Group and representatives from Empire Cinema will select the three successful artists.
Enquiries about the commission should be directed to the project curator, Ashley McCormick at
mail@ashleymccormickprojects.co.uk
(IT/JP)
Top Related Stories
Click here for the latest broadcast news stories.