Broadcast News
18/02/2014
ChyronHego Reveals NAB Lineup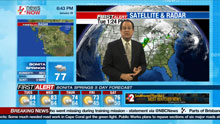 ChyronHego has announced its product lineup for this year's NAB show in Las Vegas.
PowerClips
ChyronHego's latest production clip server designed to meet the needs of demanding broadcast environments. Available in a 1RU, 2-channel standard model or a 2RU, four-channel fully optioned system, PowerClips facilitates the playback of segments such as news bumpers, station promos and 'coming ups'.
It features a tab-view user interface that allows the operator to layout command and control panels according to operational requirements.
Features include the ability to play multiple layers on a single channel, external automation control via VDCP protocol, and playback of clip formats supported by Apple® Final Cut Pro, Adobe® Creative Suite and Avid® Media Composer.
Paint Sports Telestration System
Paint is a sports production analysis tool designed for the needs of sports broadcasters.
Paint features a built-in chroma keyer and integrated camera tracking capability. Paint supports real-time 4K video recording allowing users to pan/scan and zoom within the video without losing resolutions when broadcasting in HD.
HeliPaint – Helicopter Telestration System
HeliPaint is ChyronHego's in-the-air telestration solution for enhancing live aerial coverage.
HeliPaint leverages ChyronHego's sports teles­tration and tracking technology to provide helicopter-borne reporters with tools to enhance news and breaking news coverage.
HeliPaint provides the ability to telestrate over a live stream and to freeze a frame on the fly for more detailed telestration.
Virtual Placement - Virtual Graphics Solution
Virtual Placement facilitates the placing of virtual graphics within live video into a quick and simple process. Virtual tied-to-surface graphics can be placed into a scene within minutes of setup, ready for use.
Virtual 1st - 1st & 10 Virtual Football System
ChyronHego will showcase its new Virtual 1st solution for football. Using up to three camera feeds, Virtual 1st allows a single operator to insert virtual lines of scrimmage, 1st down lines and animated graphics to highlight the down and distance.
It is suited for use in stadiums and mobile production units and features an "easy-to-use" interface including a chroma key. Incorporating line-tracking algorithms, Virtual 1st functions without the need for camera sensors.
Lyric™ PRO 8.7 - Graphics Creation Software
ChyronHego's Lyric™ PRO 8.7 graphics creation software enables the creation of graphics and is used by major broadcasters worldwide. It hosts design features such as Advanced Data Object, enhanced auto-formatting tools, scriptless transitions and touch-screen-enabled graphics.
Lyric PRO software powers ChyronHego's line of real-time character generators and BlueNet-enabled graphics servers.
TRACAB™ - Player Tracking System
TRACAB™ Image Tracking System uses Super-HD cameras and image processing technology to identify the position of all moving objects in a sports arena. ChyronHego's software analyses every image to extract X, Y and Z positions for each object, resulting in 3D tracking in real-time. TRACAB data can be streamed to various visualisation platforms such as broadcast graphics and second screens, and can be used to prepare comprehensive sets of performance statistics.
Touch Screen Solution
The GS2 Multi-Touch studio touchscreen platform is a combined product and service offering that puts touchscreen technology in the hands of the presenter.
It boasts features including a built-in second output, EVS control with thumbnail browsing, Red Bee Piero remote control, and the ability to display up to twelve outputs of live video with full touchscreen capability. ChyronHego's GS2 Multi-Touch can also be used for data sharing with leading sports data provider, Opta Sports and others.
Channel Box 2 - Channel Branding & Promo System
The newly enhanced Channel Box 2 Branding and Promo System features 2D/3D design with a complete data acquisition toolset for all branding applications.
Built on ChyronHego's Lyric PRO technology, Channel Box 2 allows users to access any data and publish it on-air anywhere, anytime.
The latest Channel Box 2 software (v.5.0) features a Scene Designer with a real-time canvas for getting scenes to air faster, an embedded C# development environment for limitless scene designs, an Advanced Data Object tool that allows users to acquire external data anytime, and quality assurance tools to ensure error-free scenes.
SHOUT™ - Social Media Editor
SHOUT™ is a stand-alone software that lets broadcasters quickly air social media conversations including those from Twitter, Facebook, Instagram, YouToo and RSS feeds using any ChyronHego Lyric-based graphics system.
Mass Relevance® subscribers can insert data streams directly into SHOUT. With SHOUT, one or more user can monitor and route social media conversations to broadcast graphics systems for on-air playback or for storage as data files for later use. Multiple instances of SHOUT running across a facility can be used simultaneously by different staff members to view content and moderate the same playback list.
BlueNet™ - Graphics Creation & Playout Solution
ChyronHego will demonstrate BlueNet™, a comprehensive solution that fully addresses broadcasters' requirements for streamlined end-to-end graphics workflows. BlueNet leverages ChyronHego's suite of graphics tools for ordering and graphics asset management, collaborative graphics creation and real-time playout.
Integration with Axis World Graphics, ChyronHego's hosted graphics production solution, extends the power of BlueNet by fulfilling, sharing and repurposing graphics to air from anywhere an internet connection is available. Order management tools allow producer-driven content to move smoothly into a rundown, and management tools with easily accessible templates enable instant and efficient collaboration in preparing graphics.
"ChyronHego continues to lead through innovation with flexible solutions that integrate into the most advanced news, entertainment and sports graphics workflows," said Johan Apel, President and CEO of ChyronHego.
"This year at the NAB Show, we are excited to showcase for attendees enhanced solutions and our newest offerings including HeliPaint, a production enhancement offering for live aerial news and breaking coverage from the chopper; PowerClips, a powerful production clip server; and Virtual 1st, a state-of-the-art virtual 1st & 10 system for football."
www.chyronhego.com
Top Related Stories
Click here for the latest broadcast news stories.