Broadcast News
21/01/2014
Screen Yorkshire Secures £7.5m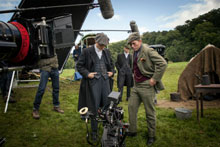 Screen Yorkshire, the agency responsible for promoting and supporting a sustainable and successful film and broadcast industry in the region, has secured a further £7.5m from the European Regional Development Fund (ERDF) to invest in Yorkshire-based film, television and digital content through the Yorkshire Content Fund.
The money is available with immediate effect and will be invested in projects that start by the end of 2015.
The Yorkshire Content Fund is open to content producers working in film, TV, games and digital based in Yorkshire, or from outside but looking to establish a base in the region.
Screen Yorkshire will also consider applications seeking higher production investments than previously - in excess of £1m on a single film or TV series - in a bid to attract bigger projects to the region.
Private investment to match fund the ERDF money is secured on a project by project basis.
Since the launch of its Yorkshire Content Fund nearly two years ago, Screen Yorkshire has invested nearly £7m in 18 projects, including TV dramas Peaky Blinders created by Steven Knight and starring Cillian Murphy and Sam Neill, The Great Train Robbery from writer Chris Chibnall, starring Luke Evans and Jim Broadbent, and Death Comes to Pemberley, written by Juliette Towhidi based on PD James' best-selling novel, directed by Daniel Percival and starring Matthew Rhys and Anna Maxwell Martin.
Other TV investments include Jamaica Inn directed by Philippa Lowthorpe, Jonathan Strange & Mr Norrell written by Peter Harkness based on Susannah Clarke's novel, and directed by Toby Haynes, and Hank Zipzer based on the books by, and starring, Henry (the Fonz) Winkler.
Feature films in which the fund has invested include '71 directed by Yann Demange, written by Gregory Burke and starring Jack O'Connell, selected for Official Competition at this year's Berlin Film Festival, Catch Me Daddy directed by Daniel Wolfe, X Plus Y directed by Morgan Matthews and written by James Graham, and Girls' Night Out to be directed by Julian Jarrold.
Screen Yorkshire has also invested in three new feature film projects: Get Santa written and directed by Christopher Smith (Triangle, Severance) and starring Jim Broadbent and Rafe Spall for Scott Free London; family comedy Bill (as in Shakespeare), directed by Richard Bracewell, written by Laurence Rickard and Ben Willbond (Yonderland and Horrible Histories) and paranormal thriller Residue, a multi-platform production directed by Alex Garcia Lopez (Utopia, Misfits), currently underway in Leeds.
Sally Joynson, Chief Executive of Screen Yorkshire, said: "This additional investment of £7.5m, effectively doubling the capacity of the Yorkshire Content Fund, is a vote of confidence in Yorkshire, in Screen Yorkshire and the effectiveness of the Yorkshire Content Fund in putting Yorkshire at the heart of production across the UK screen industries. Over the past two years we have been able to work with established and emerging UK producers from across the UK as well as those based in Yorkshire to make 18 film and television productions in the region generating work and training opportunities as well as boosting spend within the local economy. By increasing the level we're prepared to invest in key projects, we are also now aiming to work with bigger productions which can further grow and create opportunities for Yorkshire."
John Surtees, Chair of Screen Yorkshire, said: "Screen Yorkshire's work with local talent and businesses over the last decade has helped create skilled and creative local resources which can now work on major productions. But it is the Yorkshire Content Fund which is now enabling the region to participate in production in a way that is generating real growth and sustainability."
www.screenyorkshire.co.uk
(IT/MH)
Top Related Stories
Click here for the latest broadcast news stories.