Broadcast News
17/01/2014
Bexel Selects Lawo For Summer Sports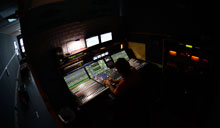 Broadcast services provider Bexel will apply Lawo's audio- and video-over-IP networking technology for this year's sports events in Russia and Brazil.
The move follows last year's collaboration in which Bexel, Lawo's North America team and Lawo's rental company ABS (Audio Broadcast Services) designed and approved a fly pack solution for sports production.
Bexel's new systems have been used at the US Open, where the company was tasked with supporting CBS international broadcast feeds.
This was followed less than one month later by the PGA Grand Slam for TNT originating in Bermuda.
"Bexel's Lawo-equipped fly packs are designed specifically for events where the infrastructure does not allow for large OB vans or to provide optimized production facilities," states Johnny Pastor, Bexel Project Manager.
"The smooth transition between New York and Bermuda venues was made possible due to Lawo's ability to intertie multiple audio sources and formats, including both baseband as well as audio- and video-over-IP, across a common network platform utilising both MADI and RAVENNA solutions for multi-channel interconnectivity.
"At the same time, Lawo was able to offer console surfaces, core routing systems and stage boxes configured for a broad range of I/O and routing configurations, with industry-leading redundancy and reliability, as well as the ability to manage on-site modifications by switching from one production to another with the touch of a button."
Bexel has been involved in the US Open for years as rental supplier.
To support host broadcaster CBS in managing the worldwide feed for both picture and sound, control rooms for courts 1 and 2 were each outfitted with a 48 fader Lawo mc²56 MKII to supply the international feed in stereo.
Two additional crowd microphones were supplied for broadcasters who wanted the ability to produce in surround. The overall system configuration consisted of a Lawo mc²56 mixing console and a DALLIS (Digital, Analog, Line Level Interface System) frame with the analog I/O linked to the console's HD Core using RAVENNA over a single CAT5 line. Signals were integrated seamlessly into the event infrastructure, as the Lawo routers were able to supply any signal in AES, analog or MADI formats.
Pastor adds: "Operators were impressed not only with how good the Lawo consoles sounded, but also with ease of operation, requiring only a short ramp up for those who had never worked a Lawo console previously, and the ability to build custom setups on the fly—tailored to each operator's unique requirements and preferences."
Two V_pro8 units, Lawo's newest video product, were used for the embedding audio streams into the world feed. The devices provided embedding for 16 SDI feeds and the flexibility to manage multiple streams (both audio and video) within a 2RU footprint.
www.lawo.de
(IT/JP)
Top Related Stories
Click here for the latest broadcast news stories.