Broadcast News
16/01/2014
The Systems Group Completes NY News Fit Out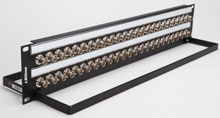 Bittree has revealed that The Systems Group LLC has just completed a deployment of its BNC, RJ45 and E3 feed-through panels in the New York operations center of a leading international news organisation.
"Installed on two floors of the building, the panels give the customer the flexibility to move video and computing equipment between floors without having to run long cables, as the company consolidates its operations in a new main data center," a statement from Bittree said.
"The Bittree coaxial panels have proven to be the ideal solution for our customer, offering a fast and easy means of providing temporary connectivity for equipment as the company re-structures its data center and video resources," said Matt Marino, integration supervisor at The Systems Group.
"Like our other projects that require leading-edge patching equipment, we didn't hesitate to recommend Bittree solutions for this company. Bittree's large line of products guarantees that we'll find what we need for our customers' requirements without having to go to multiple vendors."
The Bittree feed-through panels serve as demarcation points on two floors of the operations center; one housing a new data center and production studio and the other containing IT and production equipment that will eventually be migrated to the data center.
The panels provide connectivity for 96 video and 96 data feeds, carried on coax, twisted pair, and Cat6 cable via BNC, E3, and RJ45 connectors respectively.
Bittree's coaxial BNC feed-through panels are built with BNC connectors rated to 4 Ghz. The feed-through panels are HD SDI-compatible and are available in 1-RU or 2-RU configurations of 1 x 16, 1 x 24, 1 x 32, 2 x 16, or 2 x 24.
www.bittree.com
(IT/JP)
Top Related Stories
Click here for the latest broadcast news stories.