Broadcast News
15/01/2014
EMTO Lights Up Warehouse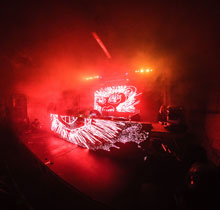 LED screen specialist EMTO's Mambo 8 LED screen was recently used at a High Definition Warehouse Event, where it was installed to clad the front of the DJ booth and to provide a backdrop behind it in the Arch 2 arena.
The High Definition Warehouse Event staged at Great Suffolk Street Warehouse in London was a showcase of artists and DJs presented by High Definition, an EDM event brand.
Technical production was supplied by Light Design Ltd from Billericay in Essex, whose Terry Lewsey is also one of the HD event organisers and promoters. He and Wes Matthews from EMTO have worked together on previous projects.
Lewsey said: "EMTO's products are always good quality and innovative and the service and support is excellent…that's why we chose to use this screen again."
This was the second time that Light Design had used the 8mm Mambo screen, but the first time at an HD event.
Arch Two of the HD Warehouse Event was curated for the evening by the Martinez Brothers from New York.
MamboLED is available in the UK via Aylesbury, Buckinghamshire-based EMTO. It consists of 768 x 768mm panels with a depth of 114mm, available in a range of pitches including 8, 9.6, 14 and 16mm for outdoor use.
Mambo has been designed for the staging and rental industry. It features a patent-pending KWIK-Connect system that includes a king-pin and Allen key click pre-lock mechanism.
Says Wes Matthews: "Terry's events always look and sound fantastic and so it's a great testament for our kit to be on them – it puts it in front of a lot of people and is used in interesting and imaginative ways."
www.emto.co.uk
(IT/JP)
Top Related Stories
Click here for the latest broadcast news stories.