Broadcast News
20/12/2013
Sony Shoots The Last Showing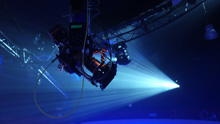 Upcoming Philm Company horror film The Last Showing is the latest to be shot in 4K using Sony's F65 CineAlta™ digital production camera.
Starring Robert Englund, Keith Allen, Finn Jones, and Emily Berrington, and directed by Phil Hawkins, the film is scheduled for UK release next year.
The storyline follows a young couple in a cinema, manipulated by a deranged projectionist into becoming unwilling actors in a film being captured by CCTV cameras.
Director of Photography Ed Moore said: "For me the F65 produces the most stunning image of any of the current generation of digital cinematography cameras. The Last Showing's setting and themes are literally cinematic in nature, and the director and I were keen from the start to reflect this in the look and feel of the images we achieved - I wanted the house lighting in the cinema in particular to play a significant part in illuminating each shot. The huge latitude of the F65 meant that we were able to work with the low levels of light these produced."
"Rich colour was another key benefit of using the F65," he continued.
"Many digital cameras don't respond well to the LED and theatrical lighting we used, but the F65's impressive colour gamut coped incredibly well, even with extremely saturated colours."
The Last Showing was shot on location in a multiplex near Liverpool using two F65 cameras and Cooke 5/i lenses, as well as Sony's SR-D1 SRMemory card reader to manage the workflow.
"In my opinion, the F65 is one of the leading cinematographic cameras, providing a transformative creative tool for feature films. Having used it on more than one occasion, Ed's been able to put it through its paces and always achieves outstanding results," said Jon Howarth, managing director of rental house Shoot Blue, who supplied equipment for the film.
"We've seen constant demand for the F65 since we took delivery of our two units, and customers have been blown away by the exceptional quality of the images that the camera captures. The wide colour gamut and peerless performance in both high and low light conditions set the F65 apart as providing the best image quality available. It has firmly established itself as the camera of choice for DoPs looking to achieve the ultimate pictures and take their audiences into the heart of the action."
www.pro.sony.eu
(IT/JP)
Top Related Stories
Click here for the latest broadcast news stories.