Broadcast News
17/12/2013
Big Interview - ES Broadcast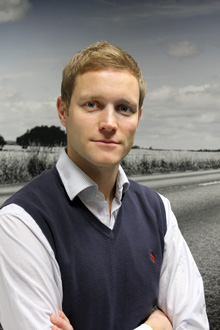 London-based ES Broadcast is a renowned supplier of new and used television broadcast equipment. The team can also plan and implement project solutions and system integration, while its OB arm works to fit and advise on the latest industry vehicles. Regional Film & Video decided to speak to founder and MD Edward Saunders, who is already looking forward to a busy 2014.
How did the company come into being? And how has it developed over the years?
Having worked in the industry from the late '90s to early 2000s within various sales and solution companies, I decided to start up my own consultancy business in 2004. This was advising blue chip companies on how to strategise their acquisitions with manufacturers. As my wife and I prepared for the arrival of our first child, due in August 2007, I decided to establish a company that could drive forward and grow with time. On the 3rd August 2007, our first son was born and so I took keys to my first commercial building and signed a contract with my first employee. As with every start-up business, I had a five-year plan. We exceeded that very plan within two years and so a larger premise was essential. At this point there were four of us; three sales and one driver. When we first moved into our current building in Watford, I thought "Oh my...What have I done?!" It was so big that we parked all four of our cars in the warehouse! Three years later in 2012, with nine staff members (and two more sons!), I decided to open ES Broadcast Hire to compliment the business in every aspect. Today, as I write this, we have sixteen staff operating two businesses with a combined turnover of £9 million.
With the ever-increasing rate at which broadcast technology and equipment is developing, how difficult is it for a company like ES Broadcast to keep up?
As we specialise in the premium sector of the industry, whether it's legacy equipment or cutting edge, it is essential that we have the knowledge to provide advice, solutions and keep the client in an informed position to cover their long term technical requirements. The market for hire dictates to us what is in demand and not. However, we are not afraid to take bold steps in offering equipment to the industry we believe to be vital. A prime example is ES Broadcast Hire being the first rental company in the UK to invest in Grass Valley's flagship camera LDX80 Elites.
What kind of advice can you provide to customers looking for a cost effective solution that will still meet their needs?
The business grew as a result of sourcing cost effective solutions for clients with a tight timescale. This inevitably meant sourcing used equipment. ES Broadcast also offers a 'part exchange' programme that reduces capex. This structure is regularly used by our clients.
Many companies continue to struggle in times of austerity. Does rental still make sense in terms of budget management? Or is it more cost effective to buy in the long run?
As we are a joint sales and rental company, we can obviously offer both solutions. It is all down to the utilisation of the equipment. If a client has (a) the capex and (b) the utilisation, there is no reason not to purchase. However if either of these factors are missing, we can provide the rental solution in most cases.
ES Broadcast also offers services like financial solutions, part exchanges and valuations. It must be a pretty big and skilled team.
With seven sales people in the team, each has naturally grown in expertise of a specific area in the industry. Project Solutions is led by Philip O'Marra, who has fifteen years' experience in the industry and has seen great success since the department was opened in January 2012. We have provided ENG systems to several major sporting events since 2012 and look forward to providing many more in 2014. This type of event demands months of planning, with additional resources being pulled when time-critical. David McCleave is lead consultant of our OB Truck Sales Department, assisted by Ashley Cochrane and others. David has been selling OB Vehicles for twenty five years. However, now part of the ES Broadcast team, he has expanded on his experience to offer a global solution. With sales going to Asia, Middle East, Africa and obviously Europe, our net of clients is very wide.
Hugo Garton, Senior Sales, is now spending more time focussing on the film and drama equipment element of the industry. We forecast an expansion of this sector, not just for ES Broadcast but for the industry. David Gill, Senior Sales, has the ability to find a solution no matter how complicated the parameters. With national broadcaster clients, he is always favoured for his high level of service and attention to detail.
Warren Taggart, who is Managing Director of Hire, has twenty five years' experience in the industry and was most recently Operations Director of CTV Outside Broadcast. He has spent the last eighteen months building up the hire business, which is fast becoming a preferred source due to all of our assets being brand new, the latest technology and therefore in excellent condition. I now oversee the sales team, keep my hand in all departments and work with Warren to run hire whilst still maintaining a few key clients.
Are there any other services the company offers?
We are often regarded as used equipment specialists but over half our turnover is based on new sales. With increasing buying power come opportunities to supply clients at even more competitive rates. Due to our vast experience of current market value we offer a service to value assets for insurance purposes or liquidators etc. We have been involved in multimillion pound valuations in recent months.
We are approaching the end of what was another busy year for the industry in general. How has 2013 been for ES? What developments has this year seen?
Historically, the 'odd' years are quieter as there are no major TV events on such as the Olympics or the World Cup. Despite this, we have still experienced growth, with next year our goal to be better still. It seems fairly obvious to us that 4K is inevitable, just as HD to SD was. I believe there are currently a few infrastructure difficulties; however, I don't see it being long before 4K is in the home. With the majority of our rental fleet not being affected by the 4K transition, I welcome the advancement.
What can customers and clients expect from ES Broadcast in 2014?
It can always be sensitive trying to talk about large contracts due to commercial interests and client restrictions. However, I'm pleased to say we already have a large order book for both sales and hire, with ES Hire set to provide assets for both Sochi and the World Cup.
Read the article in the online edition of RFV
here
(IT/JP)
Top Related Stories
Click here for the latest broadcast news stories.