Broadcast News
14/11/2013
Studer Brings Vista 1 To CCW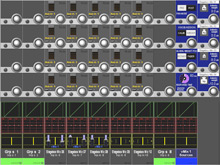 HARMAN's Studer is showcasing its Vista 1 digital console, now available with VistaMix and Lexicon effects, at the Content and Communications World (CCW) Expo in New York City this week, from 13-14 November.
The company will also be promoting the online version of its Studer Broadcast Academy.
VistaMix automatically mimics the action of a human operator so the 'talking' mic gain can be increased while reducing gain for all others — ensuring a clean balanced mix.
Studer has added Lexicon effects to the Vista 1 console through an integrated VistaFX engine.
VistaFX is a suite of effects processing engines capable of providing Lexicon effects, and was released last year as an external engine for the Vista 5 and Vista 9 consoles ranges.
The Vista 1 FX engines are all integral to the console's DSP system, so require no external signal connection or patching. New functionality is available as a software upgrade to existing consoles and is provided as standard in new systems, without loss of mix processing power or I/O capacity.
Studer will also be promoting the online edition of its Broadcast Academy training course at
StuderBroadcastAcademy.com
.
The program has been previously held in the United States on the Soundcraft Studer mobile audio truck, which has visited numerous locations of Studer regional sale rep firms and flagship Studer customers in recent years.
StuderBroadcastAcademy.com is an interactive online course for engineers worldwide to learn the operation of the company's Vista Series digital mixing consoles. The course consists of a series of modules, which participants must complete and pass 100% to officially certify as a Studer Vista Operator.
The course is structured in an interactive format and students can download the Virtual Vista software that gives them a graphic, active representation of a Vista console.
"I've found Studer consoles to be very user-friendly, intuitively laid out and much easier to operate than a lot of digital consoles out there," said Brian Pannier, a freelance audio engineer who has recently been using a Studer Vista 1 on 'The Crowd Goes Wild' program on FOX Sports.
"Just as importantly, the sound quality is top-notch and we're using the Vista 1 to its complete and full capacity and it's performing great."
Studer will be exhibiting at CCW Expo at booth 1149.
www.HARMAN.com
(IT/JP)
Top Related Stories
Click here for the latest broadcast news stories.