Broadcast News
06/11/2013
Windfall Commissioned For Alaska Documentary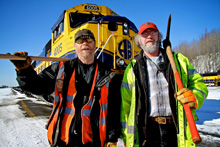 UK production company Windfall Films has been commissioned by the Destination America TV network to produce Railroad Alaska; a new, 6 x 60 documentary series that looks at the crews who keep the State of Alaska's 650 mile long railroad rolling through extreme conditions.
The Alaska Railroad is America's last remaining full service freight and passenger railroad.
Homesteaders - cut off from roads or towns - can flag the passenger train down in the middle of the woods. If it doesn't get through they can be stranded without supplies or help.
Following an elite crew of workers, including brakemen, engineers and drivers, Railroad Alaska illustrates the battle the crews face against ferocious weather.
Carlo Massarella, Company Director and Executive Producer, Windfall Films, said: "The railroad is critical to Alaska's infrastructure, carrying vital resources around the state. The workers who risk their lives to make sure the trains can run, and the off grid passengers who depend on its existence are the stories we want to tell, and Destination America offers the perfect platform to do so."
"Railroad Alaska celebrates the romance of the railroad, which opened up opportunity and expansion in America," said Marc Etkind, general manager, Destination America.
"The characters highlighted in the series are all sacrificing their own safety to provide Alaska's present day homesteaders their versions of the American Dream."
Railroad Alaska's (6x60') Executive Producers are Caroline Perez for Destination America and Carlo Massarella and David Dugan for Windfall Films. The Series Producer is Craig Blackhurst and Producer/Directors include Gwyn Williams.
Windfall was formed in 1988 by three ex-BBC producers, David Dugan, Ian Duncan and Oliver Morse.
www.windfallfilms.com
(IT/JP)
Top Related Stories
Click here for the latest broadcast news stories.