Broadcast News
05/11/2013
Wohler Reveals SATIS 2013 Line Up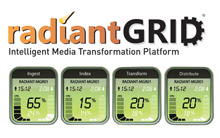 Wohler has revealed the products it will be showcasing at this year's SATIS expo, 19 - 21 November, Paris.
RadiantGrid Intelligent Media Transformation Platform™
The Wohler RadiantGrid Intelligent Media Transformation Platform™ provides consolidated media processing capabilities, such as transcoding, standards conversion, audio processing, caption processing, and quality control.
The platform integrates smoothly with editorial, archive, traffic, business process, and rights management systems. This year, SATIS attendees will be able to see the first version 8 series release of the RadiantGrid platform, containing a new media processing engine.
The platform brings optimised video pipeline features such as anamorphic video handling, 2K/4K support and higher bit depths of up to 16-bit YUV. New since IBC2013 is the RadiantGrid Detect and Correct™ video legalisation option featuring the RightHue™ algorithm that ensures comprehensive NTSC and PAL colour compliance within the file-based domain.
AMP1-MADIe Audio Monitor
The Wohler AMP1-MADIe is an in-rack portable MADI monitor unit with Ethernet control and configuration, including compatibility with the Evertz MAGNUM facility control system.
It can be connected in series with a 56- or 64-channel MADI stream to provide audible monitoring and metering of any eight selected MADI channels at once. Wohler's AMP1-MADIe enables rapid selection and monitoring of MADI signals in live-to-air production environments. Two models are available, with support for either multimode or single-mode fiber connections in addition to standard copper on BNC. Each model will also convert fiber to BNC and vice-versa.
AMP1-16M Dual Input 3G/HD/SD-SDI Audio Monitor
Wohler's AMP1-16M dual-input SDI audio monitor enables monitoring of embedded audio in two 3G/HD/SD-SDI streams. The 1-RU system de-embeds and provides metering and monitoring of any or all of the 16 audio channels in the selected 3G/HD/SD-SDI stream. The front panel enables operation and clear display of levels and other critical information using 2.4-inch LED-backlit LCD displays, enabling one-touch monitoring and summing of any selected pair(s) to built-in speakers, headphones, or XLR-balanced analog outputs.
The AMP1-16M monitor features include remote access for setup and storage of user-defined presets via Ethernet and USB connections, along with gain adjustment/trim on individual audio channels (as well as select or deselect channel pairs) with the ability to assign channels as left, right, or center (both) to the internal audio system and the analog outputs. It offers both pass-through of each SDI input and a reclocked output of the selected monitored SDI stream.
"SATIS presents an exciting opportunity to showcase, along with our distributors Videomenthe for RadiantGrid and AUDIOPOLE for Signal Management and Monitoring, both the expansion of our presence in France and the enhancement of our RadiantGrid line with award-winning technology from European partners," said John Terrey, Vice President Sales, Wohler Technologies.
"We look forward to showcasing the ever-expanding file-based processing capabilities of our RadiantGrid Intelligent Media Transformation Platform and how these capabilities can streamline broadcasters' media delivery pipelines. We will also demonstrate our simple yet sophisticated audio, video, and MPEG monitoring systems, which offer broad input support and a host of convenient features that facilitate fast, flexible operation in the most demanding of environments."
www.wohler.com
(IT/JP)
Top Related Stories
Click here for the latest broadcast news stories.