Broadcast News
26/09/2013
Zylight F8 LED Fresnel Receives STAR Award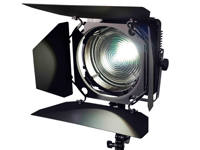 Zylight, a leading manufacturer of innovative LED lighting solutions, today announced it won a STAR Award from the editorial team of TV Technology Europe for its new F8 LED Fresnel. Ideal for studio or location work, the unique F8 folds flat – collapsing to less than four inches thick – for easy transport and storage.
Designed to celebrate and showcase the preeminent technological innovations available to the broadcast industry, the STAR (Superior Technology Award Recipient) Awards were chosen by TV Technology Europe's editors and writers and presented at IBC 2013 earlier this month. The F8 was one of only 25 products to earn a STAR Award. The magazine is published by NewBay Media.
"STAR awards are given to interesting new products that help a user save money or accomplish a task in an easier way," said Mark Hallinger, editor, TV Technology Europe. "The products selected help advance the industry – some were chosen because of technical novelty or innovation, some because they filled an important gap in the production or transmission chain, and some because they were just cool products."
"We want to thank the TV Technology Europe team for honoring our new F8 with a STAR Award," said Joe Arnao, president. "It's a better choice than an HMI for run-and-gun ENG shooting, and costs much less to operate than traditional Fresnels in the studio."
Available in tungsten (3200K) or daylight (5600K) versions, the F8 maintains single shadow traditional Fresnel beam shaping through an eight-inch SCHOTT glass lens, and offers a patented focusing system for spot and flood operations. With a CRI (color rendering index) up to 97 or better, the fully dimmable F8 offers and adjustable beam spread (16-70 degrees) for even coverage for widescreen productions.
The F8's LED engine with quantum dot technology provides a cooler, more energy efficient light than traditional Fresnel instruments, but does not compromise performance. While it draws only 100 watts, it has close to the light output of a traditional 1000-watt Fresnel. It is also water resistant (IP54) for use in challenging location conditions, and can be powered by a worldwide AC adapter or standard 14.4V camera battery.
Like other Zylight models, the F8 is also equipped with ZyLink wireless technology, which makes it easy to link multiple Zylights for simultaneous remote control. As a result, several F8s can be grouped together and linked for unique lighting scenarios. The F8 can also be controlled via DMX.
The F8 includes a five-year warranty on the LED engine, and ships with barn doors and yoke mount. Additional accessories are available separately.
Zylight
(MH/CD)
Top Related Stories
Click here for the latest broadcast news stories.