Broadcast News
16/08/2013
ClearView Extreme 4K Debuts At IBC2013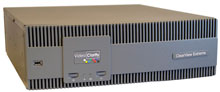 IBC2013 will see the European debut of Video Clarity's ClearView Extreme 4K video-quality analysers.
The new products are capable of interactive playback and comparison of two uncompressed 4K (3840 X 2160) sequences at up to 60Hz in real time.
Users can import and play A/V sequence files to compare processed video to original sources with new 8- and 10-bit high-resolution displays, and also to test for perceptual video quality.
Video Clarity will also showcase the latest generation of its RTM real-time audio and video monitoring solution.
RTM 3G allows users to test the quality of any delivered service bit rate or resolution deployed either from broadcast interfaces or IP networks.
RTM 3G features DMOS, a full-resolution, full-reference-quality human perceptual measurement performed in real time. DMOS allows users to view a channel's quality without having to set up one or multiple recordings to score the quality.
Another RTM 3G multi-screen, multi-resolution testing capability is automatic recording of unacceptable video and audio, a feature that generates quality score logs upon quality measurement threshold breaks. RTM 3G also enables multiple audio and video measurements in one system at the same time.
www.videoclarity.com
(IT/JP)
Top Related Stories
Click here for the latest broadcast news stories.