Broadcast News
10/06/2013
Actus Digital Unveils New Features At BroadcastAsia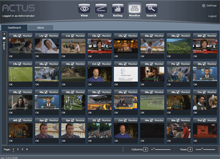 Actus Digital is unveiling a number of new features to its media monitoring portfolio at Broadcast Asia 2013.
Actus Digital will show technical demonstrations of its new Actus View Version 5 release, which offers support for multiple audio tracks and multiple subtitles and teletext.
Users can record multiple subtitles and audio tracks and select different languages from the subtitles/audio track menu, synchronising the language with selected video whilst monitoring or exporting clips. This can be viewed from different time zones.
The Actus system can now support the recording of channels from separate time zones allowing each user to monitor and export clips according to their region. Loudness measurements combined with logging allow users to quickly review the loudness status.
A further new feature of Actus View is that broadcasters and operators can now record the Transport Stream (TS) "as is" from any input (MPEG-2, MPEG-4) in high resolution. Actus View supports IP, ASI, ATSC, DVB-T/T2, Analogue and SDI.
Actus Digital will also announce the Asia launch of its remote recording and logging solution ActusRemote, allowing broadcasters' to record and log broadcast channels from remote locations to a central location reducing the need for multiple systems, servers and databases.
The company will highlight Actus Clip Factory its solution for Catch-Up TV. Clip Factory supports all formats and resolutions, managing the recording of media from any device or source.
Users can edit media, transcode clips and distribute repackaged content to any destination.
Also on display is the new version of AdWatch, the company's automatic content detection and ad tracking solution. Version 5.2 automatically detects adverts aired on all relevant TV and radio channels.
It provides simple-to-use media monitoring tools to verify that advertising content is broadcast as agreed, over local and remote affiliate channels. Unique to Actus Digital, AdWatch also detects new ads within commercial blocks, even if they haven't previously been fingerprinted.
Users can create visual proofing reports, can have visibility of their advertising revenue and can benchmark ad performance, including competitive airtime results.
In Addition, Actus Digital will be showing its Actus Ratings Analyser providing a clear graphical view of all ratings information including competitive analysis, alongside the media broadcast. All rating formats are supported including logging of NAVE IDs.
Sima Levy, CEO, Actus Digital said: "We're delighted to have such a strong presence at this year's Broadcast Asia. We have many new customers in the region and the show provides an excellent platform for us to demonstrate our highly affordable and efficient compliance and monitoring solutions. Asia is an extremely important market for Actus Digital and we look forward to meeting new and existing customers and partners at the show building on our strong customer base."
www.actusdigital.com
(IT/CD)
Top Related Stories
Click here for the latest broadcast news stories.