Broadcast News
30/05/2013
Anton/Bauer To Showcase At Cine Gear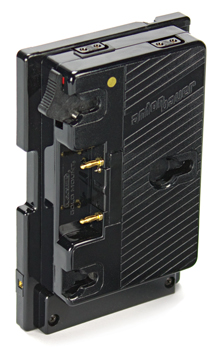 Anton/Bauer is to showcase its portable power solutions for film, video and digital media production professionals at this year's Cine gear Expo.
The portfolio will include the company's CINE VCLX, DIONIC® HD batteries, Gold Spectrum™ Wireless Series and Gold Mount® solutions.
"We look forward to Cine Gear each year as it gives us the opportunity to network directly with the professionals using our gear for film and cinema production in their own backyard," says Chris O'Neill, vice president of product management and marketing, Anton/Bauer.
"The products we'll be highlighting are all field-proven sources of durable, reliable power. We look forward to speaking with attendees and offering the appropriate power solutions for their particular needs."
Anton/Bauer's CINE VCLX allows users to not only power cameras, but also the supplementary equipment, such as lighting, required for production. Due to the battery's Nickel-Metal Hydride (Ni-MH) cell chemistry technology, it can can handle the specific needs of 24V film, 14V video and 28V digital cinema equipment.
Anton/Bauer CINE batteries also feature a RealTime® LCD that accurately displays remaining run-time and a visual LED warning indicator, which is activated when 15 minutes of run-time remain.
Also on-site will be the new DIONIC HD Logic Series battery, which powers high-current applications and can be used with the Sony F65, RED, ARRI Alexa, Vision Research Phantom series and more.
In addition to the company's latest cinema batteries, Anton/Bauer will feature its new Gold Spectrum Wireless Series at Cine Gear. A collaboration between Anton/Bauer and Vitec Group sister company Integrated Microwave Technologies, LLC (IMT), Anton/Bauer's Gold Spectrum Series encompasses the AB-HDRF Kit and the AB Direct VU handheld receiver/monitor.
The company will also demonstrate its new Gold Mount solutions. Anton/Bauer's QRC-4K-S Gold Mount attaches instantly to Sony PMW-F5 and Sony PMW-F55 Cine Alta cameras to accept Anton/Bauer batteries.
It contains three PowerTap® outputs for powering additional accessories.
The QRC-4K-S is also compatible with the Sony AXS-R5 recorder.
The QRC-HM-J Gold Mount is a pouch-style 7/14 adapter for the JVC GY-HM600/650U handheld cameras. The QRC-HM-J connects via the DC power input and maintains the system's portability while providing two PowerTap outputs for accessories. The QRC-HM-J can be mounted to Anton/Bauer's MATRIX Cheese Plate when using rails.
www.antonbauer.com
(IT/CD)
Top Related Stories
Click here for the latest broadcast news stories.