Broadcast News
30/05/2013
Harman Studer Supplies Croatian Radio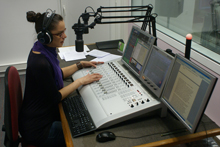 A new HARMAN Studer OnAir 2500 has been commissioned by the independent broadcaster Radio Sibenik in Croatia.
Radio Sibenik has a history of using both Studer and Soundcraft equipment, since being set up in 1968.
The latest Studer acquisition was specified by the station's Director of Production, Ante Baric.
Mr. Baric confirmed that the Studer on-air console will form the heart of a new studio designed to feature DJ only, or DJ and announcer, news presenter or guests.
Radio Sibenik's programming is based on news and specialist sports, politics and culture.
"We needed a sufficient number of inputs and outputs (the more the better), endurance and reliability and flexibility of equipment," said Mr. Baric.
Utilising the same technology platform as the OnAir 3000, Studer's OnAir 2500 digital all-in-one console provides a new benchmark in ease-of-use for radio broadcast. The control surface, I/O breakout, DSP Core and power supply are all integrated within a single compact chassis.
Studer dealer AVC Zagreb provided the OnAir 2500 configured with six microphone inputs, three stereo line inputs, two line mono inputs, four stereo AES inputs and a FireWire input.
Outputs include a stereo AES PGM output, stereo line output for recording, stereo line output for internet streaming and a further stereo line output for connection with another studio. In addition there is a talkback/monitoring module.
The console takes feeds from microphones, PC with digital multi-channel sound card or FireWire output, CD player, two telephone hybrids and FM tuner for control.
Although the new OnAir 2500 will operate in stand-alone mode, the station is considering adding a Studer CMS Lite on-air telephone system for call management at a later stage.
www.HARMAN.com
(IT/CD)
Top Related Stories
Click here for the latest broadcast news stories.