Broadcast News
10/04/2013
AJA Captures King of Hammers 2013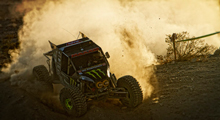 Every February, over 170 of the most formidable Ultra 4 Racing teams assemble in Johnson Valley, California, to battle in front of 45,000 spectators for the chance to win the world's most challenging off-road race - The King of Hammers.
The competition is broadcast live to 600,000 online fans, delivering a multitude of off-road disciplines from desert racing to rock crawling and short course.
When Hammerking Productions Executive Director Dave Cole decided to broadcast the event live for the first time two years ago, he called upon former pro athlete turned freelance producer Dan Campbell-Lloyd.
2013 was the the second year Mr Campbell-Lloyd helped broadcast the event live in SD on-site via jumbotrons and online. HD footage from the event was later re appropriated to cut TV shows and a DVD.
This year's event was shot on a combination of eight Sony NEX-700, NEX-VG20 and EX3 cameras. Leveraging the AJA Ki Pro Mini digital video recorder, Dan recorded segments of the race in the Apple ProRes 422 codec in the field, utilising an ATV and helicopter.
The device also played an integral role in his playback workflow, which included an AJA Io HD, Apple® MacBook Pro®, Thunderbolt™ monitor and drive, eSATA drive and Firewire 800 hub.
Signals from five satellite microwave dishes in the field, one on the side of an ATV and another in the helicopter, were all fed to a TriCaster 850EX multi-camera production system using a combination of 30 AJA Mini-Converters for a large variety of conversion needs.
Dan chose to use AJA technology, because he knew it would give him peace of mind in the field.
"When broadcasting live from remote locations, having tools from AJA is awesome! The gear is so reliable; it never misses a beat," he revealed.
"If one thing went down, we would've been in major trouble, because the whole live broadcast would've gone under. There's no way we could've done what we did without it."
Using the Ki Pro Mini, Dan's team captured footage in the field, brought it back and laid it into an SSD feed straight away. If a racer broke down, the team was able to place the recorder in an ATV or helicopter, travel into the field to capture the footage, return and integrate it into the show just a few minutes after. Dan explained, "It was almost like instant replay; because of the Ki Pro Mini, we could put footage into the show like it was live."
Facing high winds, snow and rocky terrain throughout the race, having a rugged digital recorder like the Ki Pro Mini proved essential.
"You couldn't really ask for a tougher climate, but the durability of the Ki Pro Mini was spot on. It just worked – even when sitting in piles of dust and facing super harsh weather conditions," Dan said.
"It's also so easy to use; you can put it in almost any vehicle and away you go."
The team also used AJA Mini-Converters extensively to retrieve live feeds from each microwave dish to the TriCaster.
"The mini converters were the most important part of that process. We were able to easily run DMC cords from our Microwave Dish into the Mini-Converters, so it took just one step from the Microwave Dish and back to the TriCaster," he added. "Without them – it couldn't have been done."
"When it comes to AJA gear, I'd choose it over anything else. I go with what I know works. They're really leading the forefront of the technology that we need to do our job."
Highlights from this year's event are available to view via
YouTube
www.aja.com
Top Related Stories
Click here for the latest broadcast news stories.