Broadcast News
05/04/2013
Dalet To Showcase 3D Graphics Solution At NAB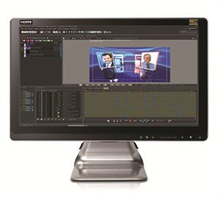 Dalet Digital Media Systems has announced it will be showcasing its new 3D graphics solution for news production at NAB 2013 (Booth SL4524).
Dalet Cube has already been deployed by dozens of customers who also use Dalet News solutions, including Mediaset and TeleNorba.
Graphics artists can use the Cube Designer to construct multilayered, pixel-accurate 3D animations that project the style and individual look of different programs and channels.
Design models from Adobe After Effects™ and other software programs can also be imported.
In the newsroom, journalists can use Dalet Cube Filler to quickly and easily select templates and add any number of upper/lower third graphics by filling in the required data fields.
The Cube Engine delivers CG playout in real time with fill-and-key or path-through mode. Additional modules make it possible to feed live data and deliver more complex elements such as videos, stills, 3D animations, and sequences.
The Dalet Cube Studio module, with fully-customisable layout, will suit live studio events such as weather, talk shows or election graphics playout.
"Because Dalet Cube is natively integrated with Dalet news solutions, there's no need for expensive third-party integrations, making it a very cost-effective offering. And the fact that the tools are accessible from our other news apps makes user training easier. From an administration point of view, system maintenance and ongoing support are also more efficient and less costly," says Raoul Cospen, director of marketing and business development, Dalet.
"It's a highly reliable solution for the production and playout of graphics in news operations. All the tools are geared to the fast pace of busy newsrooms where information can change right up to the last minute, even while a newscast is on air. Dalet Cube is geared to that nonstop environment with ease of use, high-production values and flexible control options."
Both Dalet News Suite and Dalet News Pack are open to integration with third-party systems, including graphics systems other than Dalet Cube.
www.dalet.com
(IT/CD)
Top Related Stories
Click here for the latest broadcast news stories.