Broadcast News
26/03/2013
AnyStream IQ™ Unveiled For NAB 2013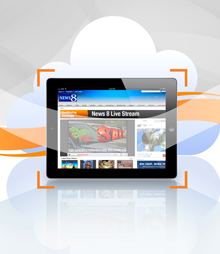 Digital Nirvana is to introduce AnyStream IQ™ at NAB.
The cloud-based solution is designed for streamed media monitoring and provides recording, logging and monitoring of live and recorded streamed broadcasts for web captioning compliance and proof of advertising.
Digital Nirvana will exhibit in Booth N3434 during the NAB convention, being held from April 8-11th at the Las Vegas Convention Center.
AnyStream IQ is designed specifically for the new streamed media monitoring requirements of broadcasters, content creators, aggregators and distributors.
"AnyStream IQ is the first cloud-based solution to record and monitor streamed media for web captioning compliance and proof of advertising," said Hiren Hindocha, president and CEO of Digital Nirvana.
"We're extremely eager to demonstrate this at NAB this year. We expect a very enthusiastic response from content creators who must comply with the new FCC mandates on streamed content. It addresses many challenges they now face, and greatly simplifies the entire process."
AnyStream IQ provides the following capabilities:
Records and monitors live and recorded streams for proof of web caption compliance
Provides proof of airing for advertisers
It is a cloud-based subscription service, with no hardware or software to install.
Users specify the URL of the stream, which AnyStream IQ then records, extracts the closed captions (if any) and provides a browser-based interface to search the recorded streams.
With its Cut/Clip feature, users can make frame-accurate in and out points on video using the H.264 standard and share the clip for either compliance or proof of airing purposes.
AnyStream IQ records both FLV and HLS streaming formats for desktop computers, tablets and smart phones. It extracts closed captions accompanying the streams. It also extracts advertisements within the streams.
www.digital-nirvana.com
.
Top Related Stories
Click here for the latest broadcast news stories.