Broadcast News
01/03/2013
UK Creative Shops Adopt Facilis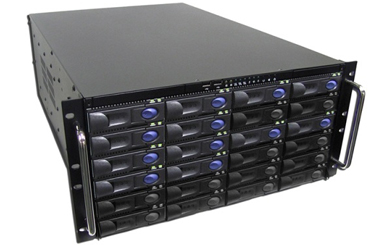 Facilis' TerraBlock Shared Storage System is gaining market momentum throughout the United Kingdom.
Over the last year, an increasing number of creative studios in the region have selected TerraBlock as their central storage server to garner greater flexibility, capacity and bandwidth, as well as to enhance collaboration across graphics and editing workstations. Facilis' new UK reseller, Tyrell, has played a pivotal role in expanding the company's presence in the region. Together with Facilis' UK offices at Polar Graphics in Pinner, Tyrell will continue to provide sales, installation and support to new and future UK customers.
The Cut London, a boutique post production studio based in Shoreditch, began using the TerraBlock late last year to increase its storage capacity and facilitate greater collaboration between editors.
"TerraBlock has given us a seamless workflow. We're able to mount a volume, launch an editing app and just start working," explained Owner Jamie Mac. "Our editors can easily share media across workstations, so we don't waste hours exporting or duplicating files. It frees up more of our time for the creative."
"TerraBlock is affordable and easy to use. It gives us superfast bandwidth and increased storage capacity – a perfect fit for all of our post work," said Post Production Manager John Lucas, who recently invested in two TerraBlock 24D systems for the consumer brand and television shopping giant JML. "Our 3D artist can also easily share project volumes with editors – without having to create separate media volumes, and we're able to use DNxHD185 media on multiple edit suites without experiencing a slow down, which is crucial to meeting tight deadlines."
In October 2012, Dublin-based sports broadcaster Transmit Solutions brought TerraBlock in-house to give its promo department shared access to programming clips to create fresh teasers each week. "A bottleneck-free workflow is essential, and TerraBlock allows that. Our team can quickly share EDL and timelines to create promos using the same footage at the same time, which has really sped up our workflow," explained CEO Mark Pilkington. "I also love that TerraBlock is so agnostic. Even as editing and graphics apps evolve, we're covered with TerraBlock, because it's compatible with most solutions."
TerraBlock is Facilis' multiplatform, high-capacity, shared storage solution supporting 8Gb and 16Gb Fibre channel, and 1Gb and 10Gb Ethernet through the Facilis Shared File System. It is available for purchase in the UK through Tyrell.
For more information and a complete list of TerraBlock features, visit
www.facilis.com
Top Related Stories
Click here for the latest broadcast news stories.