Broadcast News
23/01/2013
Larry King Now At NATPE 2013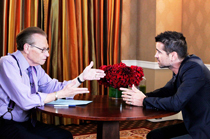 Content Television is sset to launch new talk show Larry King Now at NATPE 2013, as the legendary broadcaster brings his unique brand of talk to international audiences.
An ongoing half-hour talk show series, Larry King Now is produced by Ora TV, the new on-demand digital television network co-founded by the former CNN anchor and investor Carlos Slim. The series recently made its debut in the US on Hulu and Hulu Plus, alongside streaming on ora.tv.
Content Television is now offering TV and digital rights to the series worldwide, including secondary broadcast rights in the US and will debut the show at NATPE, with Larry King in attendance.
Greg Phillips, President at Content Television commented: "NATPE is the perfect venue to showcase Larry King Now to the international marketplace for the first time and we're excited to have the opportunity to introduce such an industry legend to our buyers and press.
"Larry is a highly experienced and world-renowned host, whose interviewing skills really draw out the kind of stories we all want to know about our favorite famous faces. We're expecting great interest in the show from our global clients and look forward to bringing Larry's one-of-a-kind style to a brand new generation of viewers."
Larry King, host of Larry King Now, added: "In my travels around the world meeting people over the past 30 years, one thing is constant no matter where they live: people love to hear a good story.
"I'm excited to bring my show and our famous, interesting and outstanding guests to an international audience once again. I know we have so many stories to tell and I look forward to sharing them all with viewers around the world. Content Television and Ora TV will make a great team in getting those interviews to an interested and diverse global audience."
On Larry King Now, Larry continues his 55-year tradition of speaking to the most interesting people in politics, sports, entertainment and pop culture. Each episode will bring viewers closer to the most compelling topics, issues, stories and people of the day.
Viewers will also see a different side of Larry. From trading jokes with Joan Rivers to setting up a lemonade stand with Betty White, Larry often travels outside the studio to conduct fascinating interviews with stars like Susan Sarandon, Colin Farrell and Matthew McConaughey.
This new series has already garnered two prestigious award nominations. The 3rd Annual Streamy Awards recently nominated Larry King Now for 'Best News and Culture Series' and Larry King himself for 'Best Host'. Winners will be announced at the Hollywood Palladium on February 17th.
ora.tv
Top Related Stories
Click here for the latest broadcast news stories.