Broadcast News
03/12/2012
Doctor Who Story Remastered To Celebrate 50th Anniversary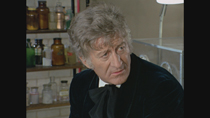 Doctor Who – the world's longest running sci-fi TV series – turns 50 in 2013, having aired on the BBC for the first time on November 23rd, 1963. To celebrate this landmark anniversary, BBC Worldwide has commissioned BBC Studios and Post Production's Digital Media Services team to remaster the four-part story, Spearhead from Space.
Originally broadcast in January 1970, the story features John Pertwee's first outing as the Third Doctor and was the first colour production of the iconic series.
Spearhead from Space is the only story from the original Doctor Who series that can be remastered into genuine HD, owing to unusual circumstances at the BBC during filming. A scene-shifters strike at Television Centre in 1969 meant that the entire story was filmed on location using 16mm film rather than recording to video tape, which allowed the team at BBC Studios & Post Production to remaster the story.
Working with the 16mm format meant BBC S&PP's Digital Media Services lead colourist Jonathan Wood took a different approach to the grading of Spearhead from Space.
He explains: "The look of this HD remaster is a low-key filmic approach, which gives it more of a dramatic result. Working with the original negative and using a powerful non-linear grading system, we decided to treat this four-part story like an individual filmed drama rather than thinking of it as part of an ongoing series normally shot in a TV studio."
BBC S&PP's Digital Media Services team used a variety of specialist tools for the remastering process. First, the original 16mm A/B roll negatives were scanned using a state-of-the-art Scanity film scanner and conformed using Nucoda Film Master. The negative of one episode had reacted with chemicals during a wet-gate printing process several years ago, so an alternative inter-positive element had to be utilised. Residual picture movement due to physical film joins was eliminated and Nucoda's restoration tools were used to remove dirt and stabilise the footage. Dark Energy lessened the grain and Diamant Dustbuster cleaned-up poor joins, remaining dirt, and other diffuse markings. Finally, the dustbusted files were imported back into Nucoda Filmmaster to finesse the final master version with the addition of the previously remastered soundtrack for playout to HDCAM-SR.
Clive Hodge, head of Digital Media Services at BBC Studios & Post Production, added: "We're delighted to have teamed up with BBC Worldwide to have remastered such an iconic programme for its 50th anniversary. Doctor Who is one of the few series to remain popular through the ages, and it's fantastic that the younger generations will have the chance to see this landmark story in the same picture quality that they've become used to with the more recent series."
The Blu-ray will be released through BBC Worldwide on 15 July 2013.
www.bbcworldwide.com/annualreview
Top Related Stories
Click here for the latest broadcast news stories.